Menu
Tomoda Takio Collection
Tomoda Takio (1931-) was born in Tokyo, and moved with his mother and sister to Shibetsu, Hokkaido in 1945 as part of the government's program of resettling war victims from Tokyo to Hokkaido to work in agriculture. Life and work were harsh, but he found inspiration in Georges Rouault's Miserere series of prints, which he saw in a magazine. Later, when he moved back to Tokyo, he was further motivated by the art collections of Mushanokoji Saneatsu and Tanikawa Tetsuzo to begin collecting modern prints by Western artists. He also wrote poetry and children's literature, winning the 2nd Oguma Hideo Prize in 1969 for his poetry collection Poetics: Anti-Vietnam War and Love Poems. After moving to Kuriyama, Hokkaido in 1990, he held numerous exhibitions of his collection in the town for the next 28 years.
Since 2018, the museum has been carrying out a comprehensive survey of Mr. Tomoda's collection, which comprises over 2,000 modern prints by Western, Japanese, and Hokkaido artists. In the process Mr. Tomoda has donated a number of these to the museum, among them Rouault masterpieces such as the complete 58-print Miserere series, the complete 22-print The Reincarnation of Père Ubu series, and all 14 prints made for Baudelaire's The Flowers of Evil, as well as leading works by artists not represented in the museum collection to date, including Ben Shahn, Antoni Clavé, Joan Miró, and Bernard Buffet. Through ongoing studies and exhibitions of the collection, the museum seeks to honor Mr. Tomoda's expressed wishes to share this magnificent art with the people of Hokkaido.
Odilon REDON
Temptation of Saint Anthony (Third Series): XX. Death: It Is I Who Makes You Serious; Let Us Embrace!
Born in Bordeaux, France, Redon had a lonely childhood after being separated from his parents soon after birth and sent to live with an elderly relative in the countryside. Even after returning to Bordeaux he was a solitary youth, an experience that would be the impetus for his artistic explorations of the inner workings of the human psyche. The charcoal drawings and prints he produced during the first half of his career conjure up a world of dreams and fantasies dominated by the color black, described by Redon as the "most essential color." This work is from a reprinting of the third of three series of lithographs illustrating Gustave Flaubert's The Temptation of Saint Anthony. An early Christian monk in Egypt, Anthony is assailed during a night in the desert by hideous apparitions and must grapple with fearsome Death and seductive Lust. Redon's pictures express this world of visions arising from the torments of the human soul. The bizarre figures of the monsters and demons that the saint hallucinates are inspired by the scientific knowledge Redon obtained from botanists of his day, suggesting that the subject matter was an ideal vehicle for giving full play to the artist's fascination with natural history.
Odilon REDON (1840-1916)
Temptation of Saint Anthony (Third Series): XX. Death: It Is I Who Makes You Serious; Let Us Embrace!
1896 (published 1938), lithograph on China paper, 43.8 × 33.1 cm (sheet size), 21.8 × 13.2 cm (image size)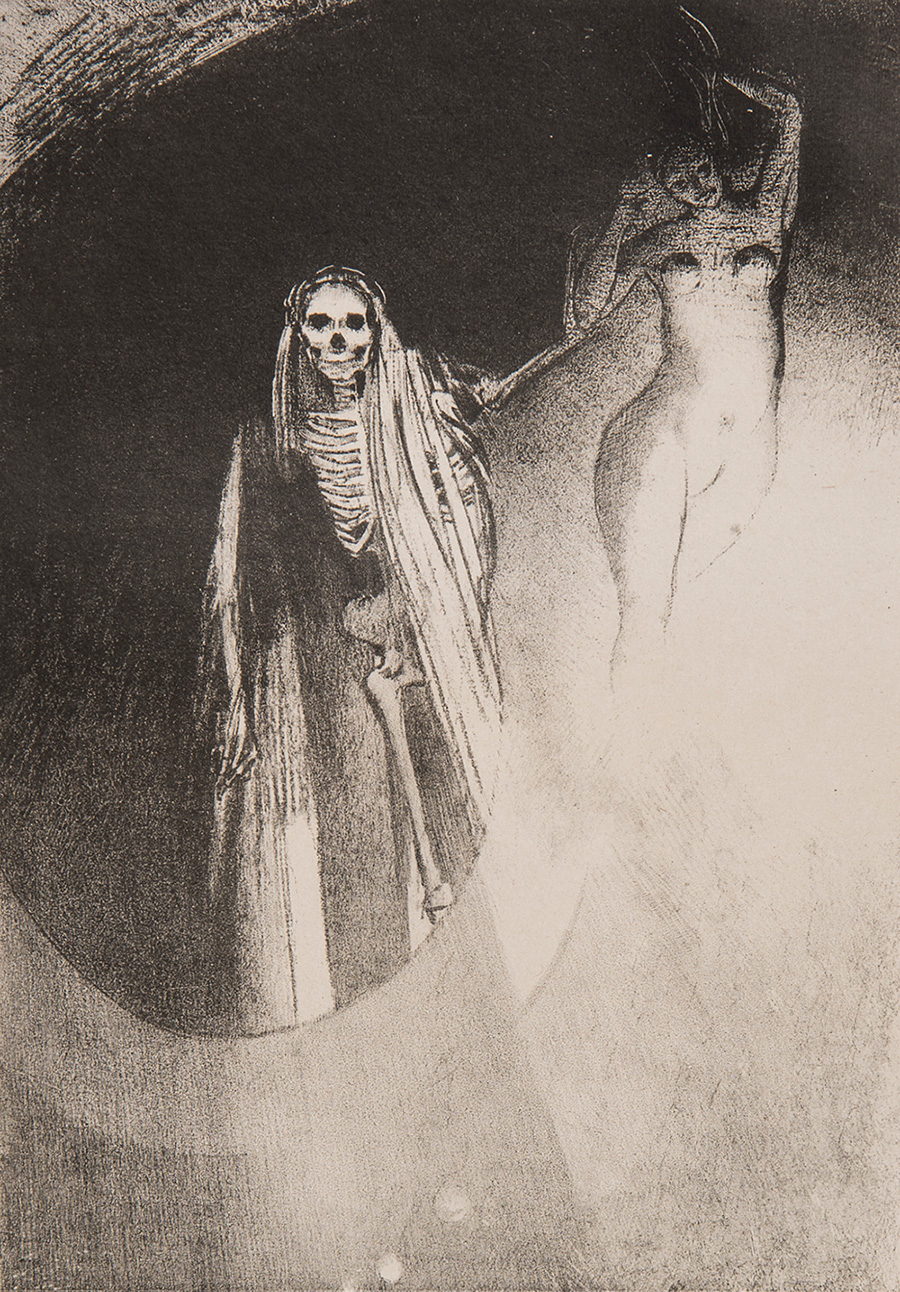 Emil NOLDE
Two Fabled Animals, Black and White
Born Hans Emil Hansen in the north German village of Nolde (which became part of Denmark after World War I), Nolde later adopted the name of his birthplace as a surname. The primordial, powerful vitality he gave to expressions of the psyche based in imagery from his north German homeland make him one of the greatest of the Expressionists. He was also a superb colorist, a talent he exhibited in watercolors as well as oils. From the mid-1900s to the 1920s he also produced etchings, woodcuts, and lithographs. His interest in woodblock printing was sparked by participation in 1906 and 1907 in Die Brücke (The Bridge), a group of Expressionist artists from whom he learned the technique. The German Expressionists were much given to woodcuts, and this work, with its simple carvings and black-and-white contrasts, is in a style typical of the movement.
Emil NOLDE (1867-1956)
Two Fabled Animals, Black and White
1910, woodcut on paper, 5.0 × 11.4 cm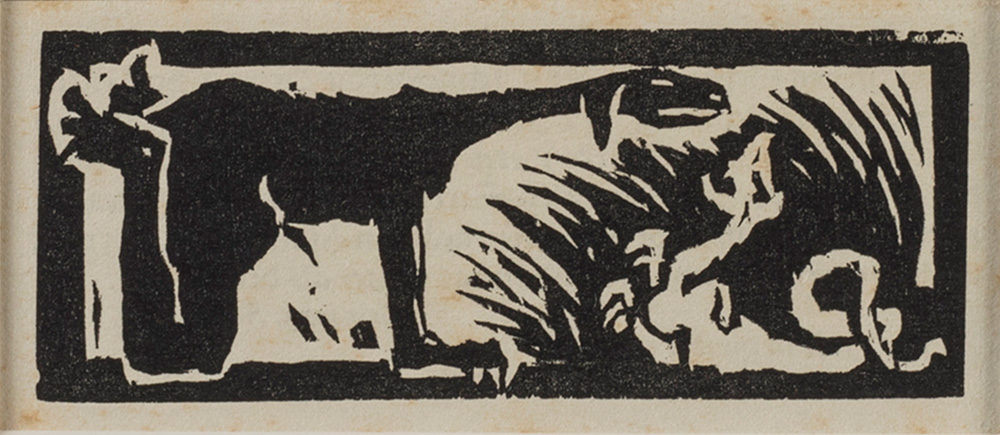 André DERAIN
Pantagruel: Videgrain
Born in the Paris suburb of Chatou, Derain became one of the pioneers of Fauvism after encounters with Matisse and Vlaminck. He subsequently switched to Cubism, but settled into a quiet, classical, realist style after World War I. His book Pantagruel is a collection of illustrations accompanying the tale of the giant Pantagruel written by the 16th-century French humanist Rabelais, in an edition published by Albert Skira. Taking inspiration from medieval tarot and playing cards, Derain created simple, caricaturish images with single-block multicolor woodcuts. The work contains 42 large illustrations, but the total comes to over 100 counting smaller illustrations interpersed in the text. His most celebrated woodcut series, it took Derain three years and over 35,000 test printings to complete. Videgrain (spelled "Vitdegrain" in the original text) is Pantagruel's great-grandfather, whose name appears only once in the story, in the first chapter of Book Two.
André DERAIN (1880-1954)
Pantagruel: Videgrain
1941-43 (published 1943), woodcut on paper, 34.3 × 28.0 cm