Menu
Egami Hisayuki Collection
Egami Hisayuki (1942-) was born in Hokkaido, graduated from the Faculty of Letters, Kokugakuin University, and earned a master's degree from the Department of Chinese Literature, National Taiwan University. He has served as a university instructor, nursery school principal, chairman of the Codomo Club Co., and chairman of the Shinnihon Kyouiku Corporation. For many years he has collected and studied Hokkaido ceramic ware, recording the fruits of this research in his Illustrated Guide to Major Figures, Kilns and Works in the History of Hokkaido Ceramics (Shinnihon Kyouiku, 1998). The book provides a comprehensive introduction to ceramics (not only ceramic "art") and the ceramic industry in Hokkaido over a 140-year-period from the mid-19th century on. It also contains the largest number of full-color plates of any book on the subject published up to that time.
The Hokkaido Museum of Modern Art surveyed Mr. Egami's collection of some 500 ceramic works, 238 of which he donated to the museum in FY2014. Through exhibitions and other activities, the museum seeks to expand appreciation of this unique collection, which covers the achievements of Hokkaido ceramists from the end of the Shogunate through the Showa era.
In response to the ceramics promotion policy of the Hakodate Magistrate, Adachi Iwaji, a potter from Mino province in central Honshu, began manufacturing Hakodate ware with a team of over 40 artisans in what is now Yachigashira, Hakodate in 1859. Using local clay, they brought pottery stone and blue gosu (zaffer) pigment from Honshu. Today, all the extant examples of Hakodate ware are sometsuke blue and white porcelain, mostly tea cups, tea caddies and sake cups painted with scenes of the Hakodate area, Ainu customs, and other motifs with a strong local flavor. However, the industry did not survive for long, and Iwaji returned after a few years to his native Mino. This tea cup is a superb example, one of the few remaining, of Hakodate ware. Bearing the inscription "Made in the first year of the Man'en era," it is also rare for identifying its year of production.
Hakodate Kiln (1859-1862)
Tea Cup
1860, ceramic, 8.6 × 7.8 cm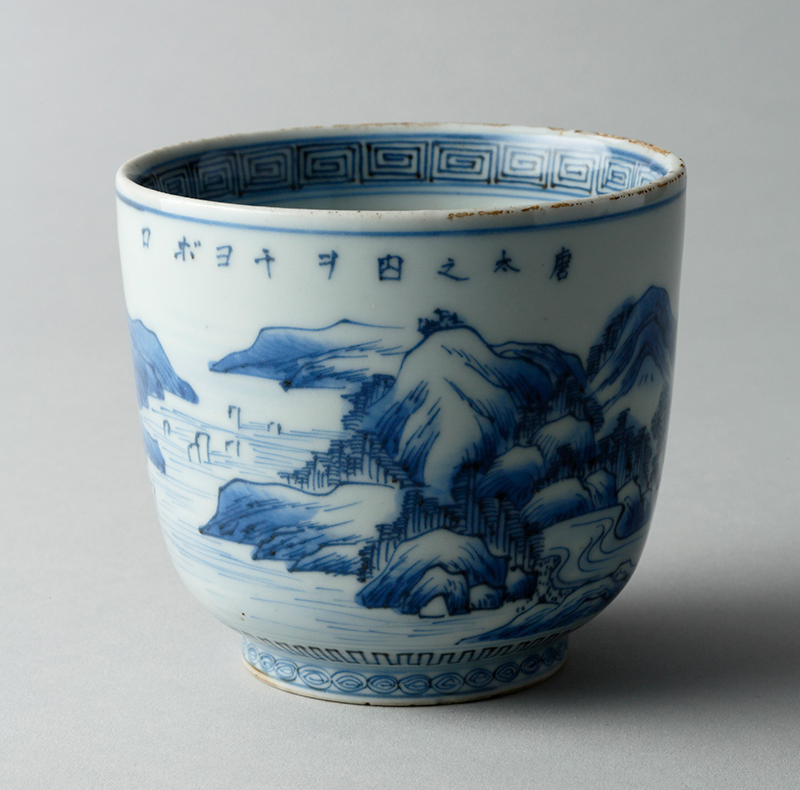 Ezo Ceramic & Co., Ltd.
Dish
Over 100 ceramic items have been found in Hokkaido bearing the words Ezo-shisei in hand-brushed red ink. The pieces are varied, ranging from dishes and bowls to tea sets, and are painted with scenes of Ainu customs among other motifs. Lacking in clues about their makers, place of origin, or age, they have long been viewed as an enigma of ceramic ware. However, Egami Hisayuki discovered a Meiji-era lithograph in the possession of Hokkaido Jingu Shrine that was the original rendering of the illustration on this dish, which he named "Dish with Painting of Ainu Performing Acrobatics on Horseback." Further examination of a handbill from Komura Shoten, a store selling wares from the Ezo Ceramic Works, revealed that the Ezo-shisei label indicated goods made in Sapporo between 1899 and 1903 by Ezo Ceramic & Co., Ltd., headed by Komura Mitsuo (from Egami, Illustrated Guide to Major Figures, Kilns and Works in the History of Hokkaido Ceramics, 1998). Komura was born in Osaka in the late Edo period and died in Sapporo in 1913.
Ezo Ceramic & Co., Ltd. (1899-1903)
Dish
Ceramic, 21.0 × 3.4 cm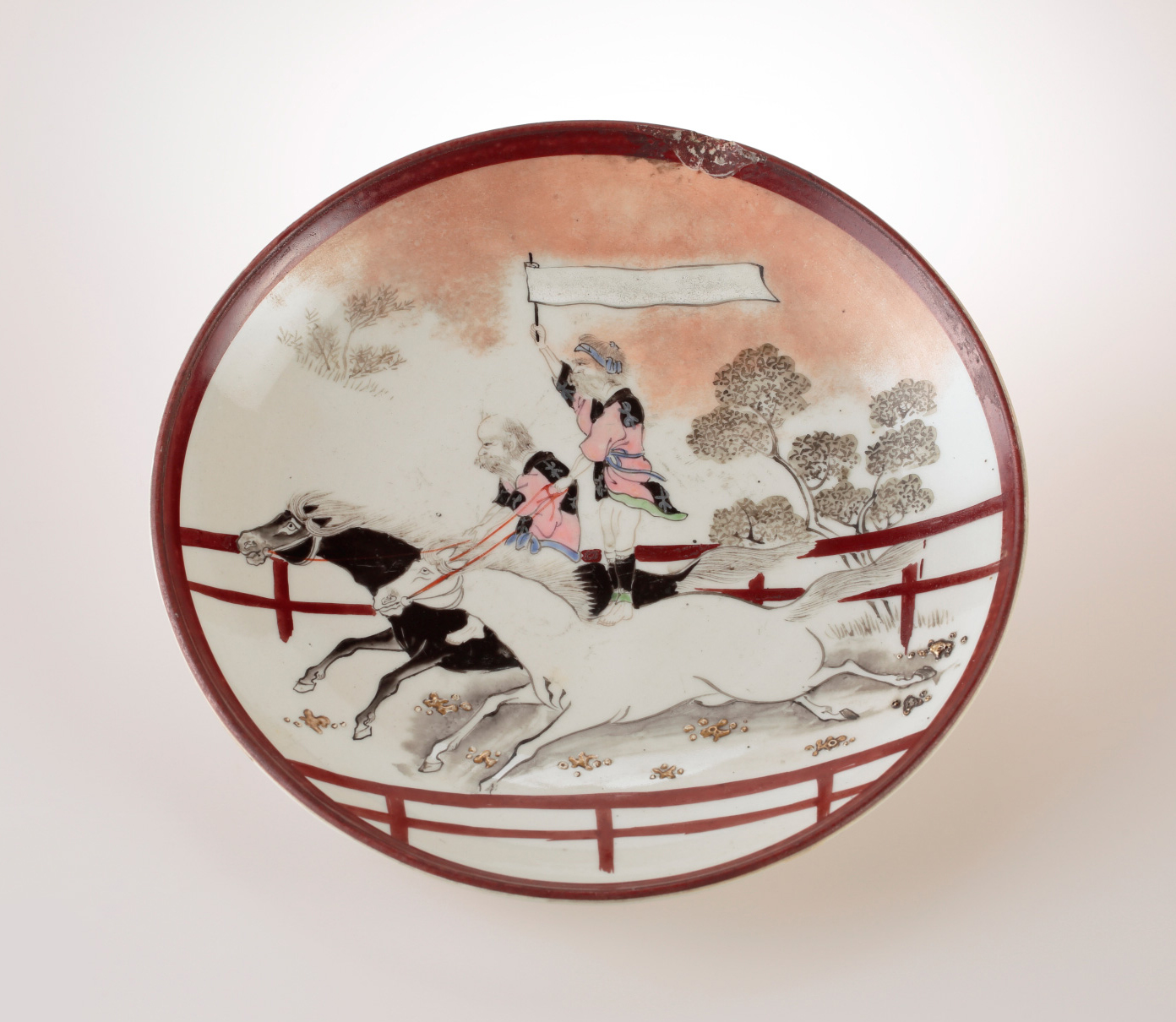 Yamada Masao established the Sapporo Pottery in Miyanomori, Sapporo, in 1935. His kiln went by the name Nire-gama or Koto-gama. Born in Akkeshi, Hokkaido, Yamada trained at the Hokkaido Industrial Research Institute, then moved to Tokyo, where he studied with the sculptor Numata Kazumasa. Not long after he opened his kiln, the Hokkaido prefectural government began providing financial assistance, recognizing it as the equivalent of an "official prefectural kiln." In addition to tableware and other everyday items, the kiln produced artistic ceramic works with Hokkaido motifs. In 1955 Yamada was invited to Burma and closed his kiln. This work portrays a dark-brown sitting bear; nearly identical figures were made by other Hokkaido kilns such as the Muro-gama and Kobushi-gama. Perhaps because they all originated with the Hokkaido Industrial Research Institute, these kilns were closely linked in interesting ways. For example, Yamada's teacher Numata was involved with the design of the figure made by the Muro-gama kiln.
Sapporo Pottery (1935-1955)
Bear
Ceramic, 16.6 × 20.1 × 18.6 cm