Menu
Takahashi Hakushin Collection
Takahashi Hakushin (1926-1997) was born in Obihiro, Hokkaido. Founder, president and chairman of the Takahashi Construction Co., he also collected and studied ukiyo-e for over three decades. In 1988 he received the 7th Susumu Uchiyama Prize for Dedication to Ukiyo-e from the Japan Ukiyo-e Society, and became a director of the Society in 1991.
In FY2004, Takahashi Daisuke, eldest son of Hakushin, donated 491 works from his late father's collection to the museum. The greater part of these were woodblock prints by Utagawa Kunisada, as well as by Utagawa Kuniyoshi, Keisai Eisen, and other ukiyo-e artists; nearly all were of the bijin-ga (pictures of beautiful women) genre. The collection is a superb one not only for its consistently high level of artistry, but also for its historical and cultural value. Additionally, most of the prints display the finest carving and printing techniques and are in excellent condition. Overall they enable us to appreciate the beauty of ukiyo-e in their original vivid colors.
In honor of the devotion with which Takahashi Hakushin collected and maintained these works, the museum takes the utmost care in their preservation, at the same time seeking to introduce this beautiful art to as many people as possible now and in the future.
UTAGAWA Kunisada
A Beautiful Woman by a Headache, from the series Endearing Scenes: Contemporary Life Styles
Born in Edo (now Tokyo), Kunisada became apprenticed at a young age to the ukiyo-e master Utagawa Toyokuni and quickly displayed prodigious artistic talent. He is considered one of the top ukiyo-e artists of the late Edo period. This work is one of the most acclaimed in the ten-print Star Frost: Contemporary Life Styles series, considered a masterpiece of Kunisada's mature period. Unable to sleep on a summer night, a woman frowsily dressed in her nightclothes kneels stock-still, staring at the flame of a paper candle and the tiny insect beyond it on the mosquito netting. The image captures the intensity of her concentration as she attempts to get rid of the mosquito that has found its way into her boudoir. The figure is the epitome of a pert, chic Kunisada beauty.
UTAGAWA Kunisada (1786-1864)
A Beautiful Woman by a Mosquito Headache, from the series Endearing Scenes: Contemporary Life Styles
Woodcut on paper, oban-size nishiki-e, 37.9 × 26.2 cm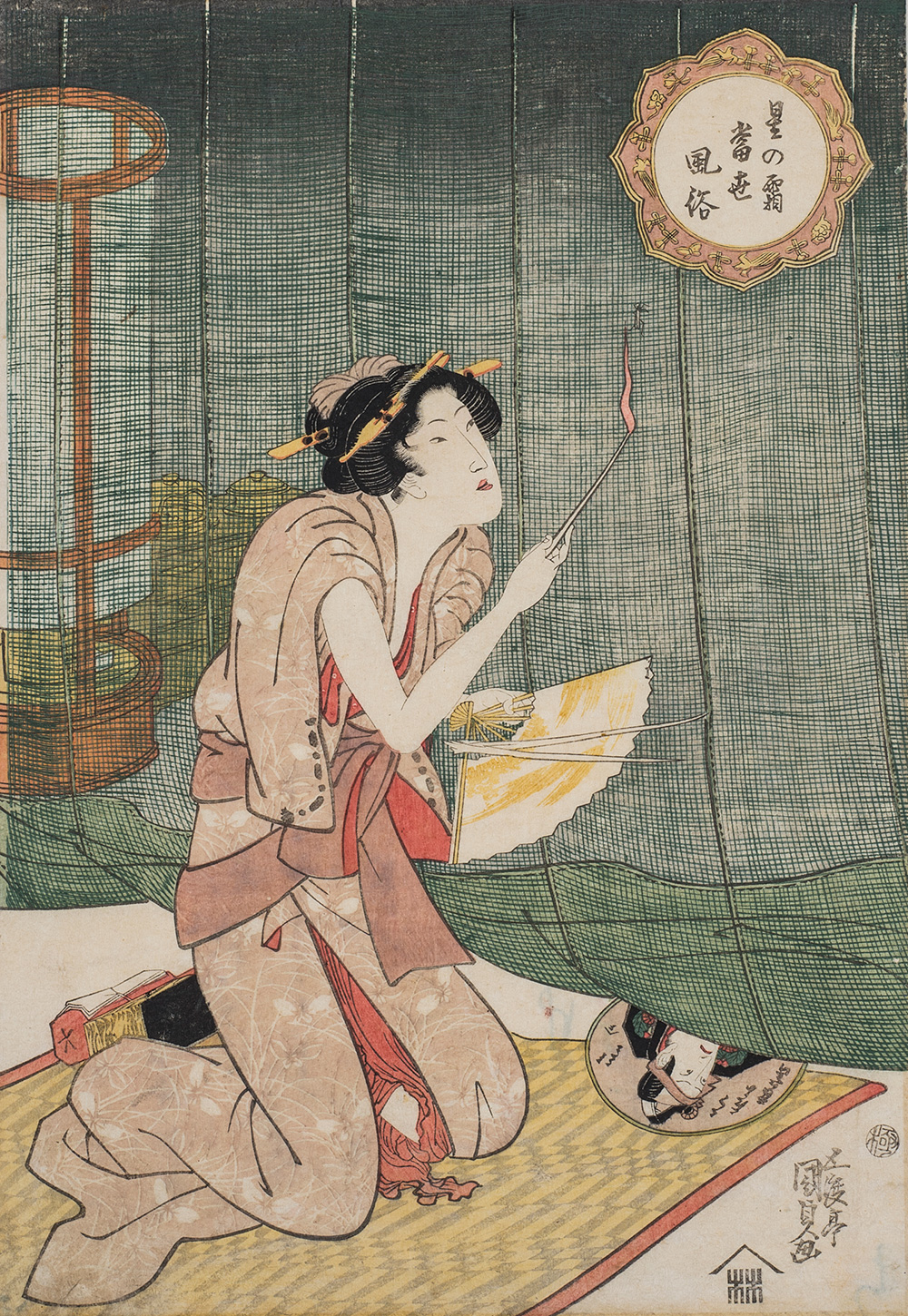 KEISAI Eisen
A High-ranking Courtesan Promenading in Yoshiwara: Carp Swimming up a Waterfall
Born in Hoshigaoka, Edo (now Tokyo) to a samurai family, Eisen studied to be an ukiyo-e artist with Kikugawa Eizan. He developed an original style of portraying beautiful women that embodied the chic and spirited aesthetic of the late Edo period during the first half of the 19th century, when he was active. This work, an oban ("large-format") sized aizuri-e ("indigo print") composed of two vertically arranged sheets, has as its motif a courtesan dressed for a procession. In the 1830s and 1840s, Eisen produced many monochrome aizuri-e masterpieces that achieved expressive gradations of tone with imported Prussian blue ink. The gorgeous figure of the courtesan extends beyond the confines of the picture frame, her stride implying a lateral expansion of the space she occupies. The robe over her kimono is decorated with a bold depiction of carp climbing a waterfall, with a particularly deep shade of indigo used for the two carp, accenting their vitality.
KEISAI Eisen (1791-1848)
A High-ranking Courtesan Promenading in Yoshiwara: Carp Swimming up a Waterfall
Woodcut on paper, oban-size aizuri-e, vertical diptych, 37.1 × 24.5 cm (top), 36.5 × 24.2 cm (bottom)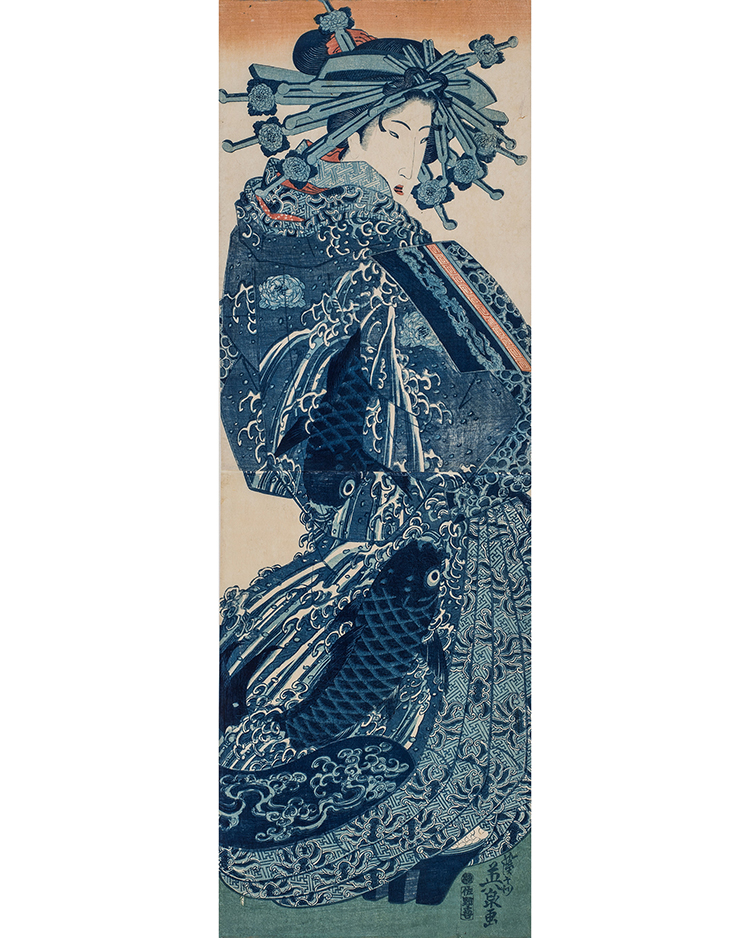 UTAGAWA Kuniyoshi
A Woman Suffering from a Headache, from the series Endearing Scenes with Illustrations of Mountains and Seas
Born in Nihonbashi, Edo (now Tokyo), Kuniyoshi's birth name was Magosaburo, and he went by various pen names, among them Ichiyusai and Chooro. One of the foremost ukiyo-e artists of the late Edo period, he was renowned for his innovative portrayals of heroic warriors (musha-e), but he exercised his wit and imagination in a broad range of genres, from Western-style illustrations to caricatures and bijin-ga (pictures of beautiful women). This print is from a series of medetaizue, pictures designed to appeal to potential buyers by juxtaposing scenes of famous local products with portraits of beautiful women wearing the latest hairstyles and kimono in various circumstances. The woman here, looking downcast and with her hair in disarray, does indeed appear to be suffering from a headache. Kuniyoshi drew the main subject while his daughter Tori handled the inset illustration, which depicts the manufacture of Satsuma ware.
UTAGAWA Kuniyoshi (1797-1861)
A Woman Suffering from a Headache, from the series Endearing Scenes with Illustrations of Mountains and Seas
1852, Woodcut on paper, oban-size nishiki-e, 35.4 × 25.4 cm