Menu
Glass
The hardness of glass, its reflection and transmission of light, and its glittering beauty are all qualities that make this material perfectly evocative of Hokkaido's snowy, icy, harsh wintry landscapes. It is this affinity between glass and such images that inspired the Hokkaido Museum of Modern Art to decide, while still in its preparatory stage, to collect glass works. Also contributing to this decision were the prospects for a growing interest in glass art on a global scale and the belief that collecting glass would help nurture artists and admirers of the medium, as well as promote glass as a regional industry.
The museum has not only devoted itself to collecting works in glass, but also to exhibiting them. We have held five iterations of the World Glass Now exhibition introducing trends in glass art in Japan and abroad, as well as such historical overviews as Japanese Glass in the Showa Period and 2,500 Years of Glass Art in Europe. These exhibitions have also served as opportunities to pursue comprehensive research on artists and their works as well as to further develop our collection.
Number of works in the "Glass" collection: 1,258 (as of March 31, 2021)
Born in Nancy in the Lorraine region of eastern France, Gallé spent his life in his hometown making glassware, ceramics, and furniture. His highly creative glass art reflected the then-prevailing currents of naturalism, Japonisme, and symbolism, making him a flagbearer of fin-de-siecle Art Nouveau. This work is a companion piece to a vase exhibited at the Paris Exposition of 1878, which marked the public debut of Gallé's glasswork. Glass tinted the delicate blue shade he called "moonlight" flows like a stream, atop which he has used vitreous enamel to paint a large carp that appears to be swimming in the water. The carp is derived from a sketch in Volume 13 of the Hokusai Manga, testifying to the depth of Gallé's interest in Japanese art.
Emile GALLÉ (1846-1904)
Vase
c.1878, mold-blown glass, enamel coloring, 22.8 × 28.5 cm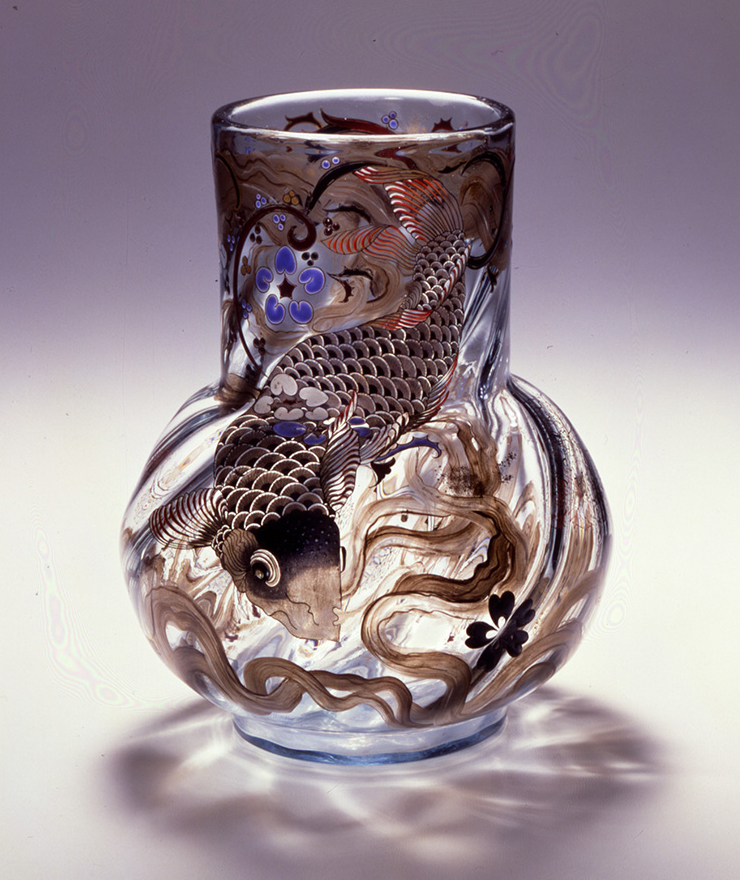 The Daum studio was founded in 1878 in Nancy, in the Lorraine region of eastern France. Initially the studio made glassware for everyday use, but it was inspired by the exhibits of fellow Nancy resident Emile Gallé at the 1889 Paris Exposition to begin producing more artistic glasswork. Utilizing the designs of master painters and decorators, and pursuing the development of new techniques, Daum enjoyed success rivalling that of Gallé at the 1900 Paris Exposition. The lovely display of crocuses on this work is achieved by the use of Gallé's marquetry (overlay) technique as well as engraving with a rotary grinder to create the soft texture of the petals. The spring-like pink ground is produced by an original technique of speckling the surface with colored glass powder.
DAUM (1878-)
Vase
c.1904-14, mold-blown flash glass with speckled ornamentation, etching and engraving, 12.3 × 30.2 cm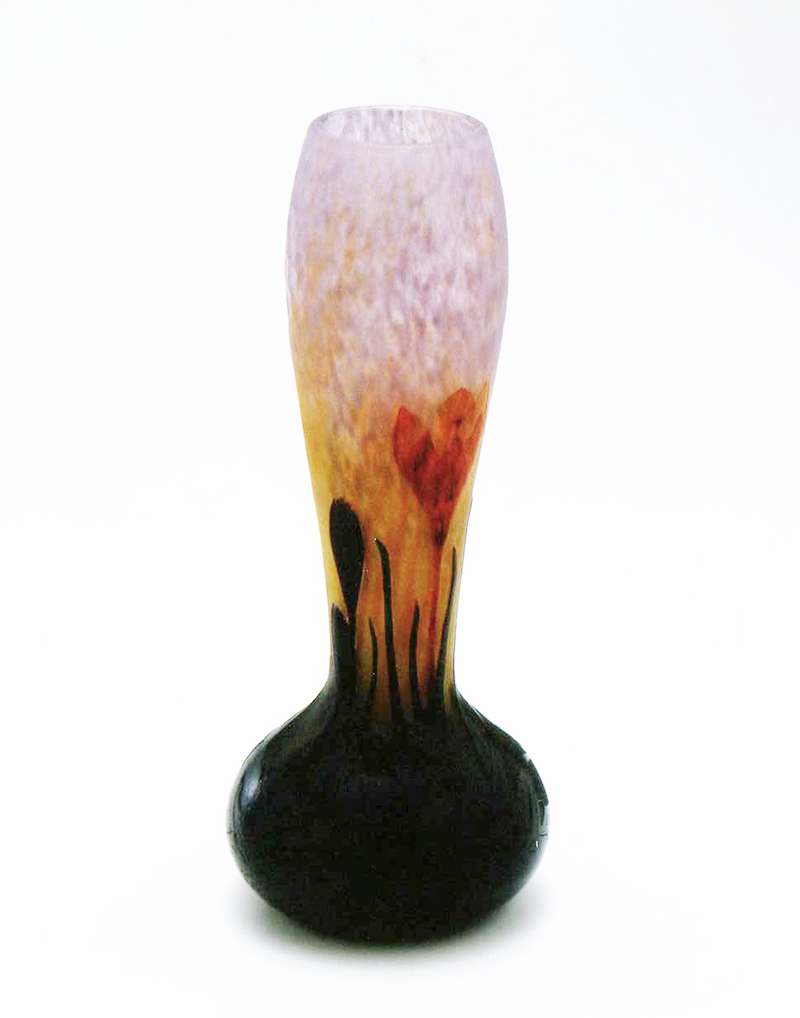 Louis Comfort TIFFANY
Lamp
Born in New York City, TIffany was the eldest son of the founder of the famous jeweler Tiffany & Co., but instead of entering the family business he decided to become an interior designer. Excited by the possibilities of glassmaking, he founded a glassware company and produced the iridescent glass he called Favrile glass, as well as stained glass and lamps. He became the leading American artist of the Art Nouveau style with works featuring plant and insect motifs. This is a stained-glass lamp, one of a popular line known as Tiffany lamps. The shade composed of glass pieces with subtle gradations of color and the glass mosaic-covered base combine to create a bright, flowery mood.
Louis Comfort TIFFANY (1848-1933)
Lamp
c.1900-10, glass, bronze, copper, 56.0 × 79.0 cm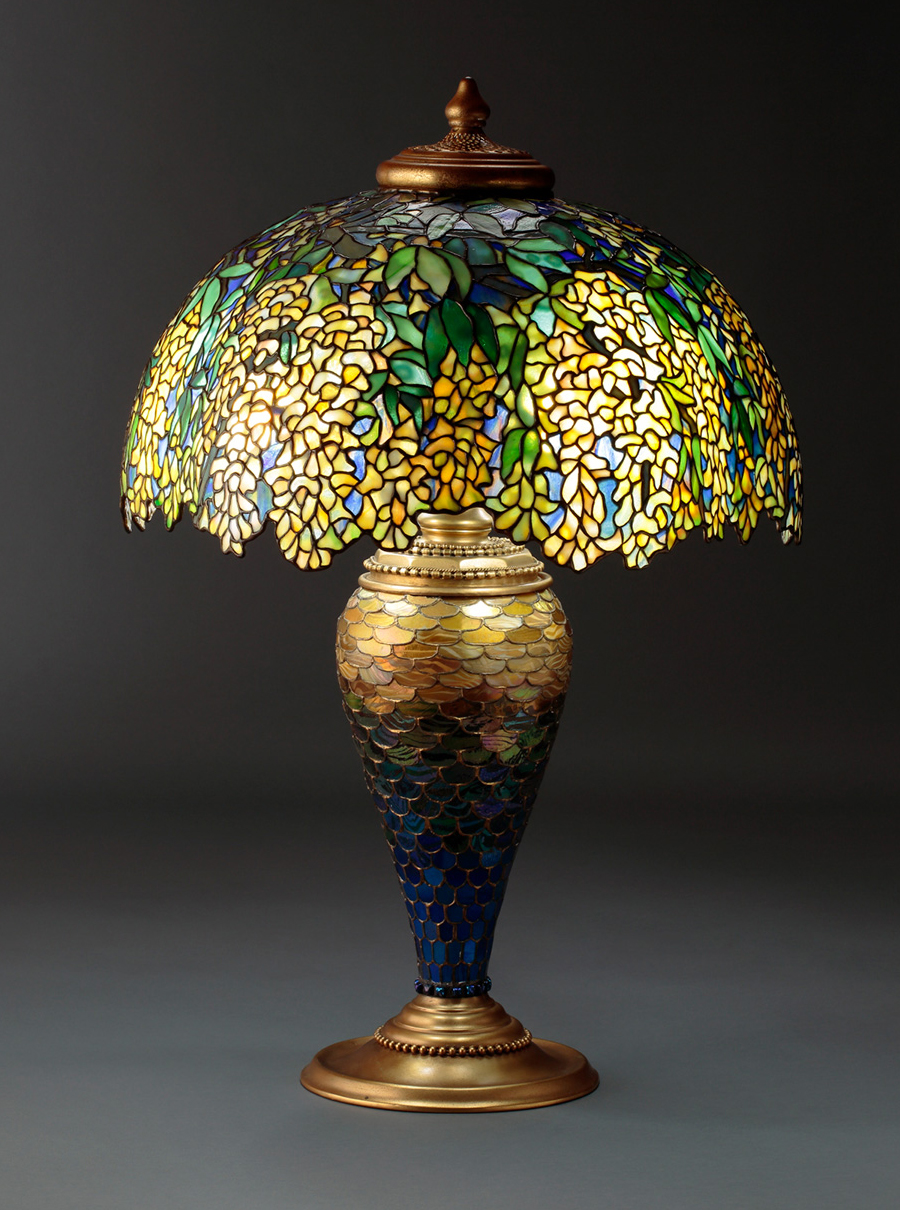 René LALIQUE
Vase "Bacchantes"
Born in Marne in the Champagne region of France, Lalique earned worldwide renown as a leader in Art Nouveau jewelry design at the end of the 19th century. Later, his interest in perfume bottle design led him to focus on glassmaking. Along with developing mass-production techniques for top-quality molded glassworks, he created elegant and rhythmic decorative patterns that earned him acclaim in this field as well. The milky-white glow of the glass in this work is a technique Lalique developed in the 1920s. The popular effect, described as "opalescent" due to its opal-like shifting of color with the angle of the light, is put to exquisite use here in the intricately composed figures of nymphs dancing at a feast in homage to the god Bacchus of Greek mythology.
René LALIQUE (1860-1945)
Vase "Bacchantes"
1927, pressed glass, 21.0 × 24.9 cm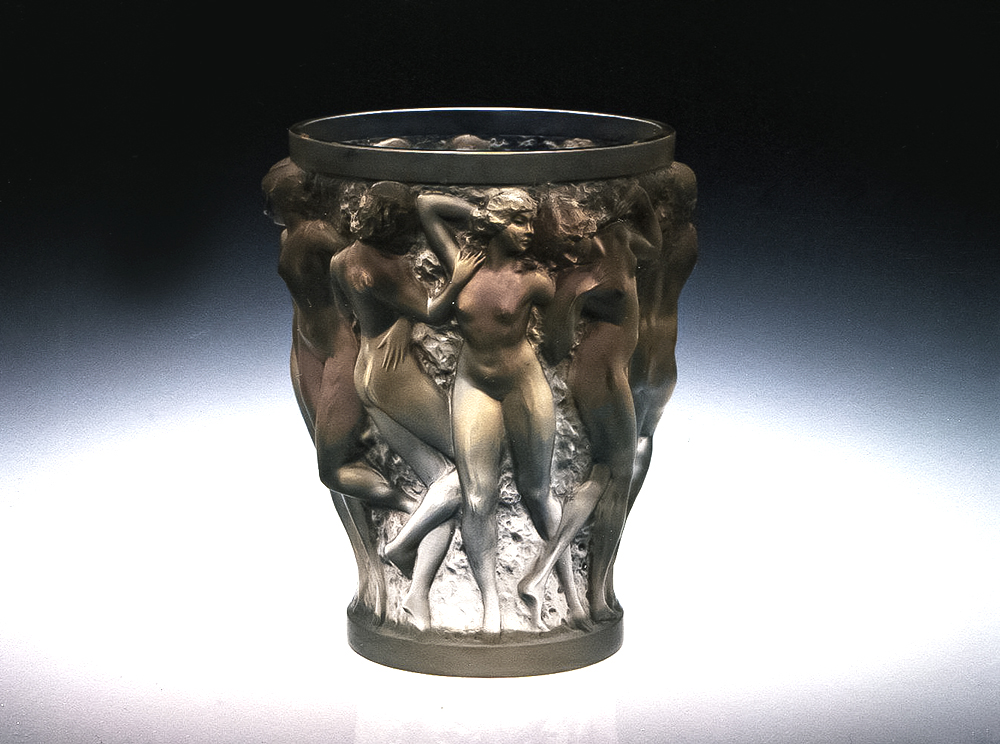 Born in Tokyo, Iwata studied at the Hakubakai Western Painting Research Institute and graduated from the metal craft and Western painting departments of the Tokyo Fine Arts School (now Tokyo University of the Arts). He then became fascinated with glass as a material with infinite possibilities for modern artistic expression, and founded the Iwata Glass Works in 1928. Organizing his own solo exhibitions, he actively promoted glass arts to the general public, and was nominated for membership in the Japan Art Academy in 1954. This work is part of the Shell series he created in his later years. The convoluted twistings of melted red and white glass make the spiral shell come alive in what is a prime example of Iwata's pursuit of free forms by hand-blowing glass of multiple colors.
IWATA Toshichi (1893-1980)
Shell
1974, free-blown glass, 16.0 × 39.0 × 34.5cm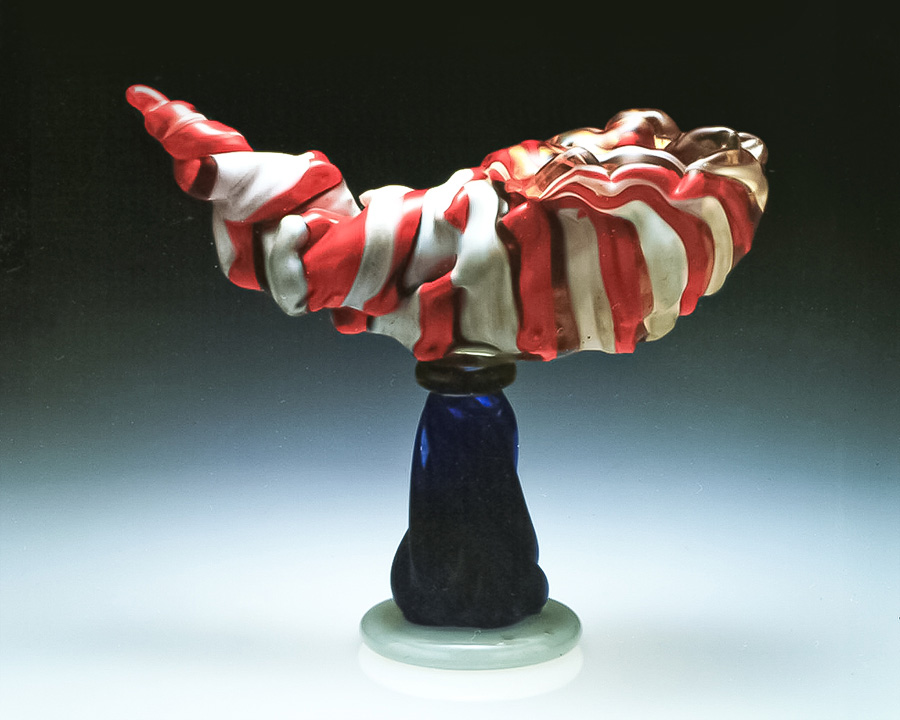 FUJITA Kyohei
Decorative Box "Yayoi"
Born in Tokyo, Fujita studied metal carving at the Tokyo Fine Arts School (now Tokyo University of the Arts) before devoting himself to glassmaking. He won acclaim at home and abroad for his original designs incorporating the ornamental sensibilities of traditional Japanese art. With its flows of glass embedded with colored glass powder and metal foil, his "Ornamental Box" series emulates the opulent decorative style of the Rinpa school. Artful color compositions and evocative titles derived from classical literature combine to conjure up a distinctively Japanese aesthetic. Here bits of white and pale pink glass and gold and platinum foil are scattered over the box, bringing to mind cherry-blossom petals dancing on a spring breeze.
FUJITA Kyohei (1921-2004)
Decorative Box "Yayoi"
1982, mold-blown glass decorated with colored glass powder and gold and platinum foil, 29.1 × 25.6 × 19.7 cm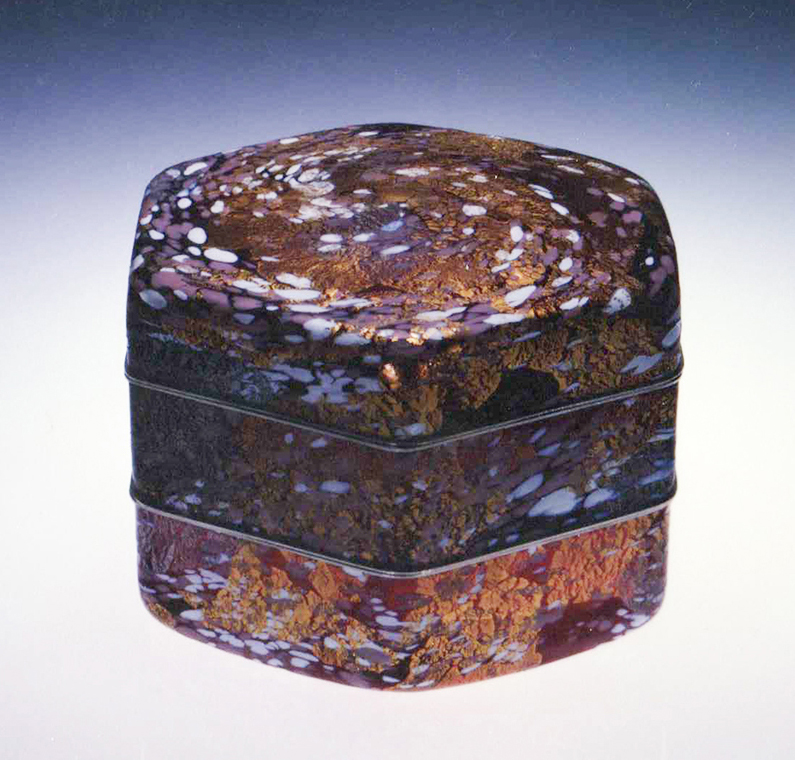 TAKIKAWA Yoshiko
The Ground Zero, an Illusion
Born in Seoul, Korea, Takikawa moved as a child to Tokyo, where she began studying with the painter Murai Masanari at age ten. She showed her work at Modern Art Association exhibitions and elsewhere while enrolled in the Art History Department at Keio University in Tokyo. She went on to graduate school at New York University, then continued to paint upon her return to Japan, but eventually focused on an original method of building three-dimensional objects from layers of glass sheets. Her debut of works in this style was at a solo exhibition in 1981. Thereafter she continued to explore the endless changes of glass with the play of light, as well as the ambiguity inherent in such dual properties of glass as real vs. virtual images and existence vs. nonexistence. The "Ground Zero" of this work's title refers to the site of the World Trade Center in New York that was destroyed by terrorist attacks in 2001. Takikawa states that the "Illusion" of the title could also have been worded "Impermanence." What message is implied by the spiral of glass?
TAKIKAWA Yoshiko (1937-)
The Ground Zero, an Illusion
2002, glass, 31.55 × 27.35 × 75.0 cm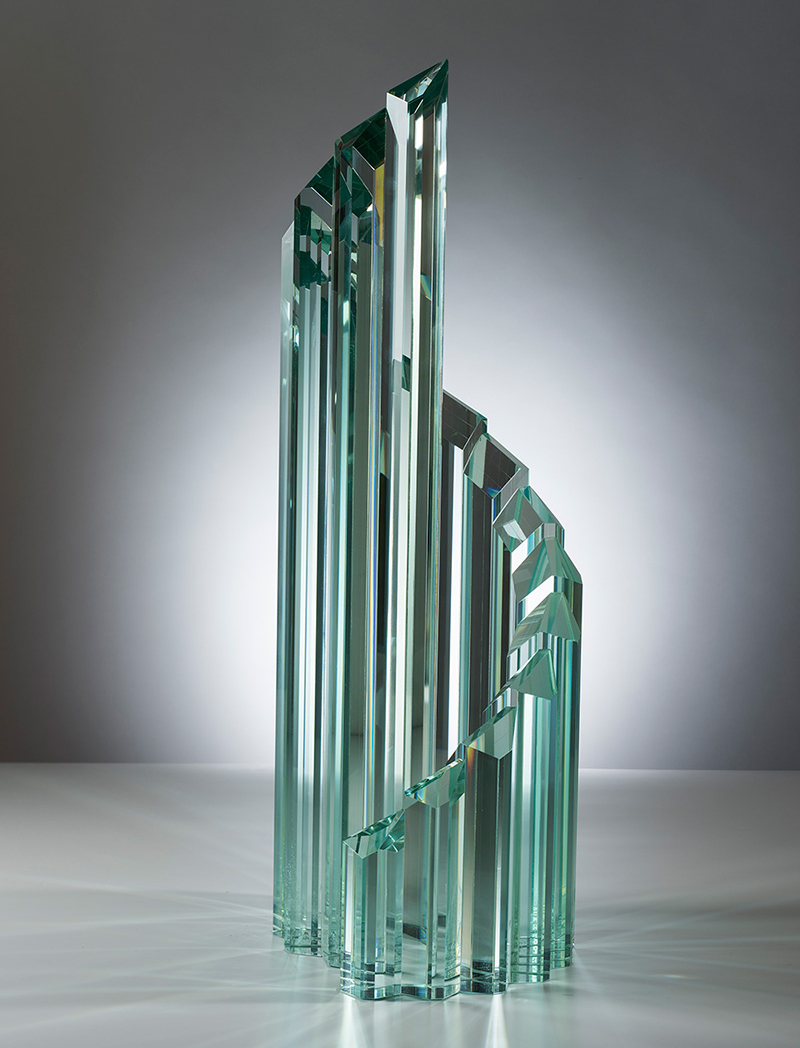 OGITA Katsuya
My Funny Place / Rainy Day
Born in Kawachinagano in Osaka prefecture, Ogita majored in metalworking at the Kanazawa College of Art, then studied at the Tokyo Glass Art Institute. These works are inspired by the "full two-story" (meaning the first and second floors are equal in area) structure of houses common in Kanazawa, where Ogita lives. Formed by packing glass particles in a plaster mold and melting them in an electric furnace, the "houses" give the impression of solidity and heft. The surface of the glass is frosted so that light seems to be softly enclosed within. The silver foil baked onto the roof adds a subdued flavor, and there is something rustic-looking about the lines of colored glass on the walls that indicate rainy or sunny days. Ogita says that he wishes to represent the house as a place that provides rest and comfort and protects a family from outside dangers. Among Ogita's most representative works, they made him the first Japanese to win the Hokkaido Museum of Modern Art Prize (Grand Prix) at the 4th World Glass Now exhibition in 1991.
OGITA Katsuya (1957-)
My Funny Place / Rainy Day
1991, cast and sandblasted glass, 26.0 × 25.5 × 26.3 cm / 28.0 × 32.0 × 25.5 cm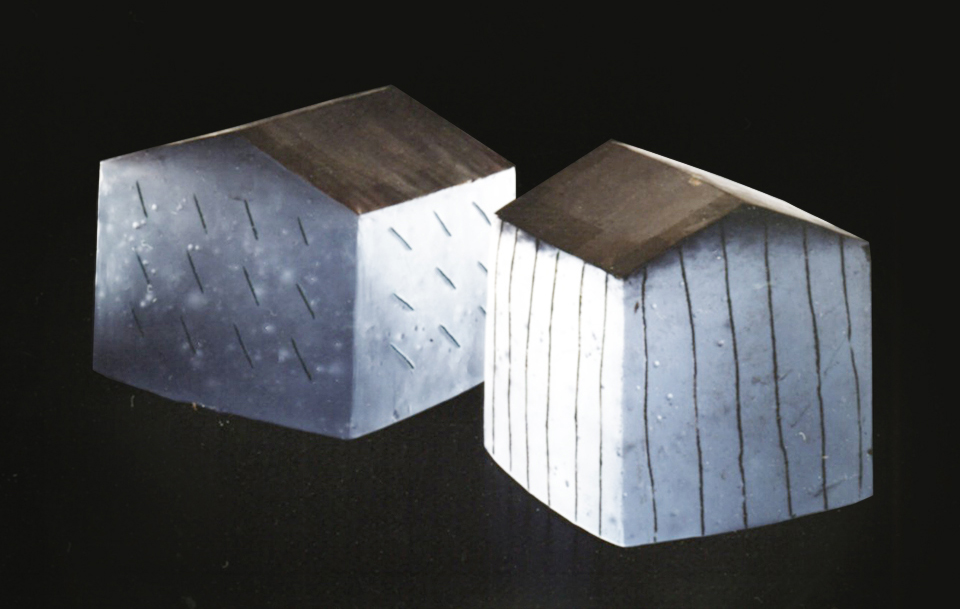 TAKAHASHI Yoshihiko
Flower Like
Born in Tokyo, Takahashi majored in craft design at Tama Art University in Tokyo. After training at a glass studio in Germany he opened his own studio in Kanagawa prefecture. He has taught at his alma mater and at Pilchuck Glass School in the United States. Flower Like is a set of blown-glass works with a ceramic-like texture that were shown in this museum's Outspoken Glass exhibition. Exploiting the very properties that make glass a challenging material to work with, Takahashi uses his superb technique to produce forms in multiple colors, each a simple shape with its own handle and removable stopper. At first glance the objects appear to have some sort of practical use, but when exhibited as a group their individual characteristics become even more expressive. The museum selected 50 pieces for its own collection from those featured in the exhibition.
TAKAHASHI Yoshihiko (1958-)
Flower Like
2002, free-blown flash glass, polished, 8.4 × 10.2 × 17.5 cm (piece on far left, from a 50-piece set)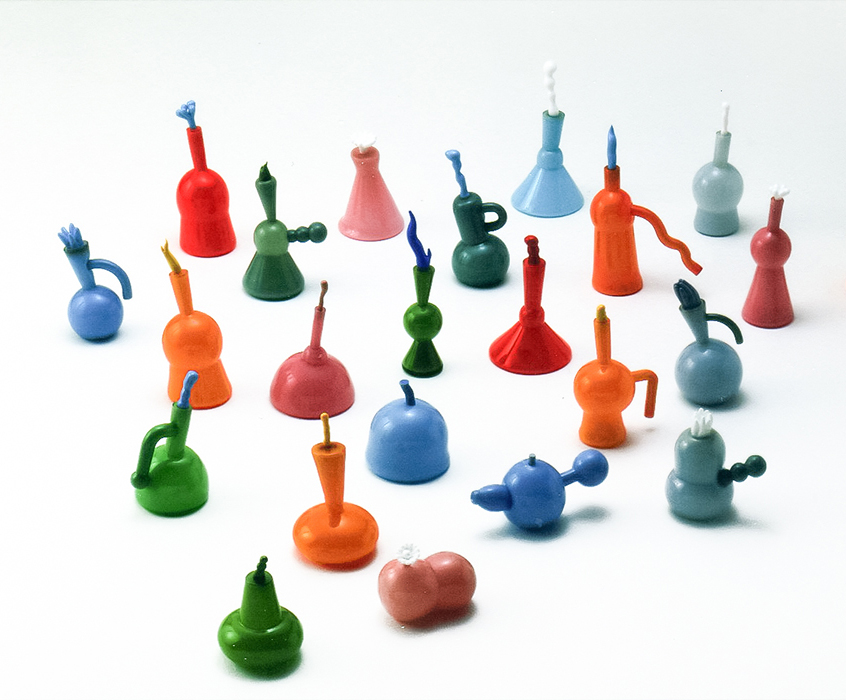 SHIOYA Naomi
Presage of a Storm
Born in Tokyo, Shioya studied glassmaking at Tama Art University in Tokyo. After graduation she drew notice for her exhibition of fragile-looking works made of glass shards, but her work underwent a transformation after she moved to France in 1993 and worked for two years at the International Glass and Visual Arts Research Centre (Cirva). For a year, she says, she wrote poetry instead of making glass, until her poems suddenly took on the forms and colors of glass, and she began using the casting technique for the first time. She arrives at her cast-glass forms through a process of drawing the images emerging from her poems, then making clay objects, then cardboard models. This work is typical of her approach, giving symbolic form to the moon, clouds, and river that figure in the original verse about a coming storm, drawing the viewer into a poetic world of the artist's making.
SHIOYA Naomi (1961-)
Presage of a Storm
2001, cast and sandblasted glass, polished, 14.0 × 40.0 × 66.0 cm