Menu
École de Paris
In 1973, when preparations were underway to open the Hokkaido Museum of Modern Art as a new prefectural museum, the New Museum Collection Planning Council formulated a policy for the systematic collection of works of art appropriate to a "comprehensive modern art museum founded on the principles of localism and internationality." Since before its opening, the museum has endeavored to reflect the principle of internationality in its development of collections of glass works from overseas, European prints, and École de Paris works.
The École de Paris, or School of Paris, is a general term applied to foreign artists of the same generation who were active in Paris from the mid-1920s on. The museum's collection features works by painters born outside France, notably Jules Pascin as well as Marc Chagall, Léonald Foujita, Kisling, and Chaïm Soutine, along with such French contemporaries as André Derain, Marie Laurencin, Maurice Utrillo, and Hermine David.
The École de Paris artists produced works with a richly human flavor redolent of Paris in its golden age. The school is also fertile ground for research into the significance to modern art of the ethnic backgrounds of artists and the political and economic currents of the period between the two World Wars. In its own research, the Hokkaido Museum of Modern Art studies these aspects of the school and its era to shed light on the world that gave birth to the artists and their art.
Number of works in the "École de Paris" collection: 306 (as of March 31, 2021)
Jules PASCIN
Little Girl with a Bouquet
Born in Vidin, Bulgaria, Pascin spent his life as an expatriate who viewed human beings through a critical lens. Until he took his own life at age 45, he was one of the leading artists of the École de Paris. Before arriving in Paris in 1905 he had studied art in Vienna, Munich, and Berlin, and was an illustrator for the popular satirical magazine Simplicissimus. In Paris he frequented cafes in Montmartre and Montparnasse and drew sketches of prostitutes, models, and friends. From around 1924, during what were known as his "mother-of-pearl" years, his oil paintings featured erotic yet melancholy portraits of girls and young models rendered with delicate lines and soft, iridescent colors. This work is emblematic of that style in its depiction of a young girl sitting pensively in a chair against a smoky-hued background.
Jules PASCIN (1885-1930)
Little Girl with a Bouquet
1925-26, oil on canvas, 80.0 × 64.0 cm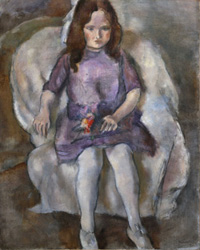 Amedeo MODIGLIANI
Portrait of Foujita
Born into a Jewish family in Livorno, Italy, Modigliani studied art in Venice, then migrated to Paris in 1906. Initially he devoted himself to sculpting, but later focused on painting due to his poor health. He painted prolifically and became known for his elongated figures and melancholic portraits. Alcohol and drugs took their toll on his already fragile health, however, and he died at age 35. This work is a sketch of his close friend, the artist Foujita Tsuguharu. With just a few simple lines in pencil, Modigliani captures the physique and posture of the model with his signature bowl haircut and tiny mustache. At the bottom of the drawing, Foujita has written, in French, "My portrait by Modigliani." He treasured the sketch for the rest of his life.
Amedeo MODIGLIANI (1884-1920)
Portrait of Foujita
1919, pencil on paper, 48.5 × 20.0 cm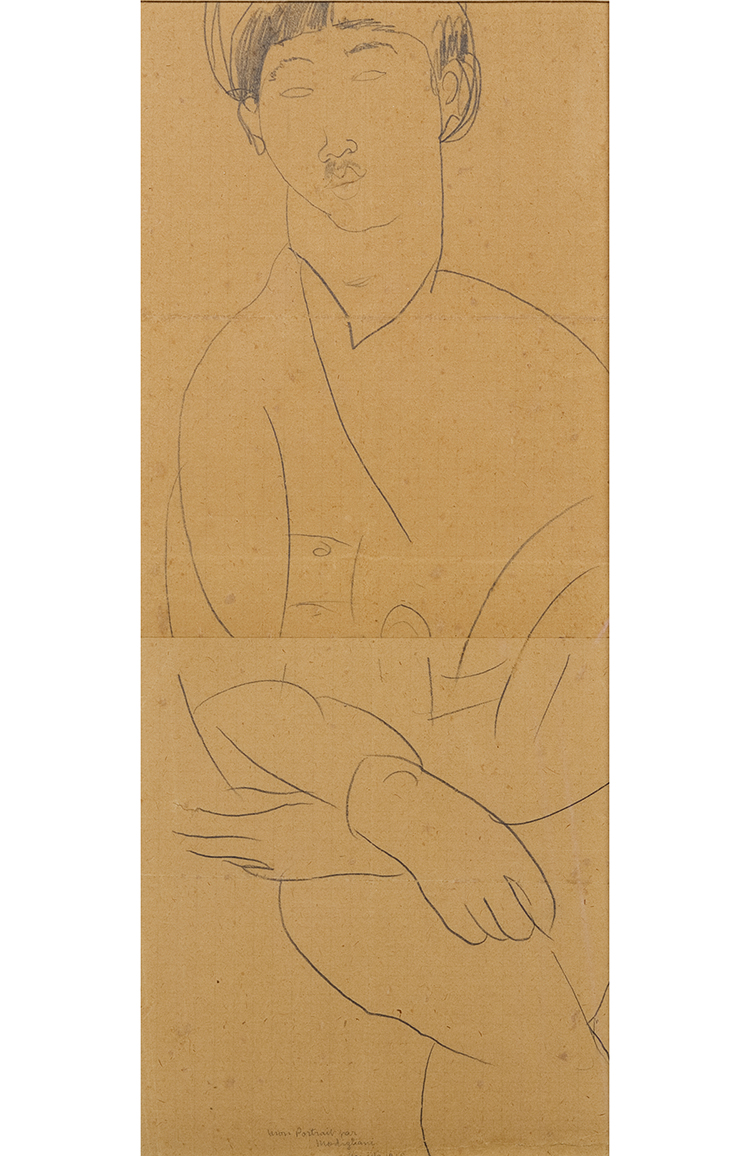 André DERAIN
Landscape of Martigues
Born in the Paris suburb of Chatou, Derain began immersing himself in the study of painting in Paris in 1898. After meeting Matisse and Vlaminck he came to favor the use of vivid colors and helped spearhead the Fauvist movement, but subsequently aligned himself with the Cubists. Then, after World War I, he adopted a quiet, classical, realist style. This work is a rare example of Derain's relatively brief Cubist phase. Martigues is an oil-shipping port by the Etang de Berre lagoon west of Marseille in southern France. Shapes that suggest sky, mountains, houses and trees are arranged in a complex configuration that approaches abstraction, but also retains the intense colors of his Fauvist period. It is a masterful demonstration of the style of Derain in a period of transition.
André DERAIN (1880-1954)
Landscape of Martigues
1908, oil on canvas, 100.0 × 81.0 cm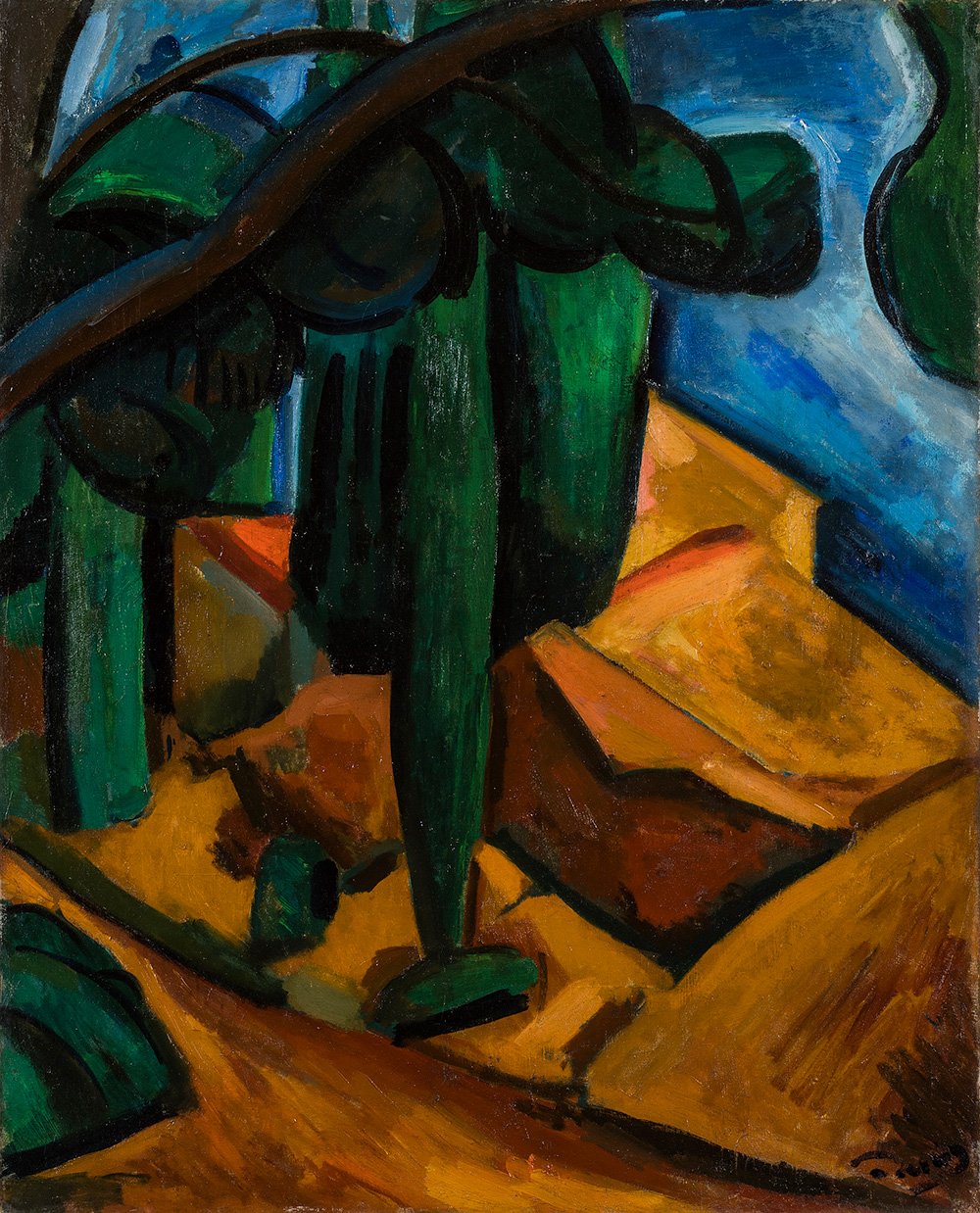 Maurice UTRILLO
Street in Montrouge (Seine)
Born in Paris to an artist mother, Suzanne Valadon, Utrillo spent much of his life in and out of hospitals due to his alcohol dependency, but all the while continued to paint scenes of Paris. Indeed, he took up the artist's brush in hopes it would cure his alcoholism. Eventually he became one of the leading lights of the École de Paris. This work is representative of Utrillo's celebrated "white period," during which he devoted himself to painting white walls and buildings. There is an air of pathos about this portrayal, with extreme single-point perspective and rough brushwork, of a typical street in a Paris suburb. In an effort to reproduce the texture of the walls, Utrillo would sometimes mix plaster and sand into his paint. There is nothing particularly distinctive about these bleak backstreet townscapes, yet under the artist's hand they spring to life, glowing with the esprit of Paris.
Maurice UTRILLO (1883-1955)
Street in Montrouge (Seine)
c.1910, oil on canvas, 57.5 × 79.3 cm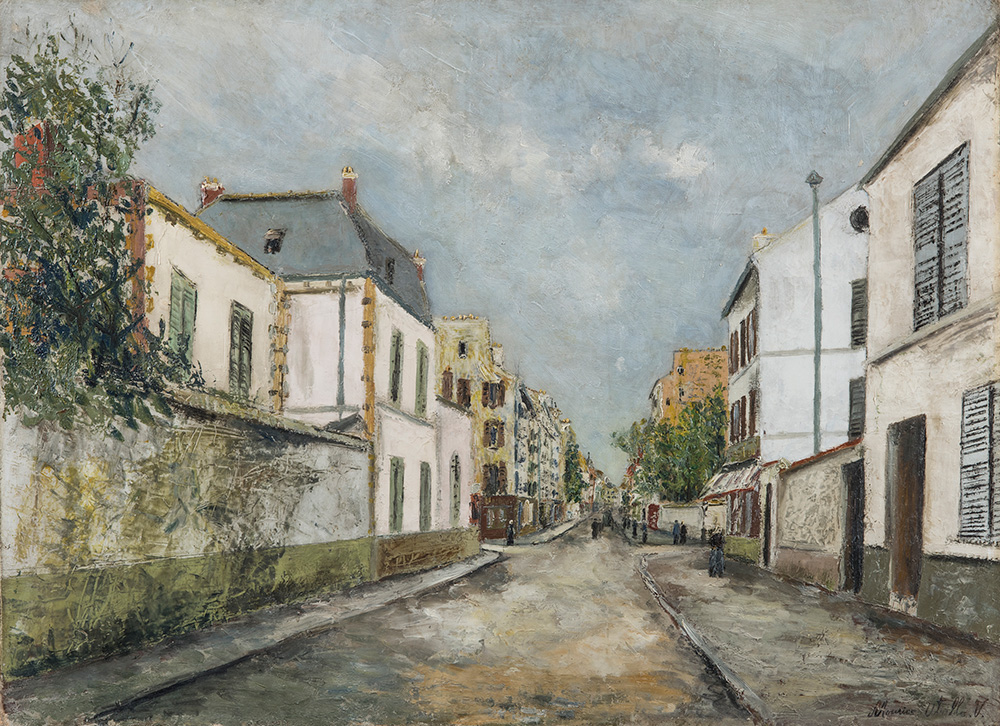 Marie LAURENCIN
Three Women
A native Parisienne and one of the leading female artists of the École de Paris, Laurencin won acclaim for her sensitive, lyrical portrayals of "rosy-faced maidens." Initially aspiring to be a porcelain painter, she dedicated herself to oil painting after encounters with Picasso and other avant-garde artists at the turn of the 20th century. Gradually weaning herself from those influences and developing her own style, she displayed talent in a variety of other areas as well, from ballet stage design and costumery to writing. By the 1920s she was hailed as one of the "female talents" of the era. Her human figures, with their trademark long faces (sometimes drawn without noses or eyebrows), dark-pupiled, widely-spaced eyes, and small lips, are rendered with a soft touch in light pastel tones that give them a sweetly sentimental air.
Marie LAURENCIN (1883-1956)
Three Women
1943, oil on canvas, 61.0 × 49.8 cm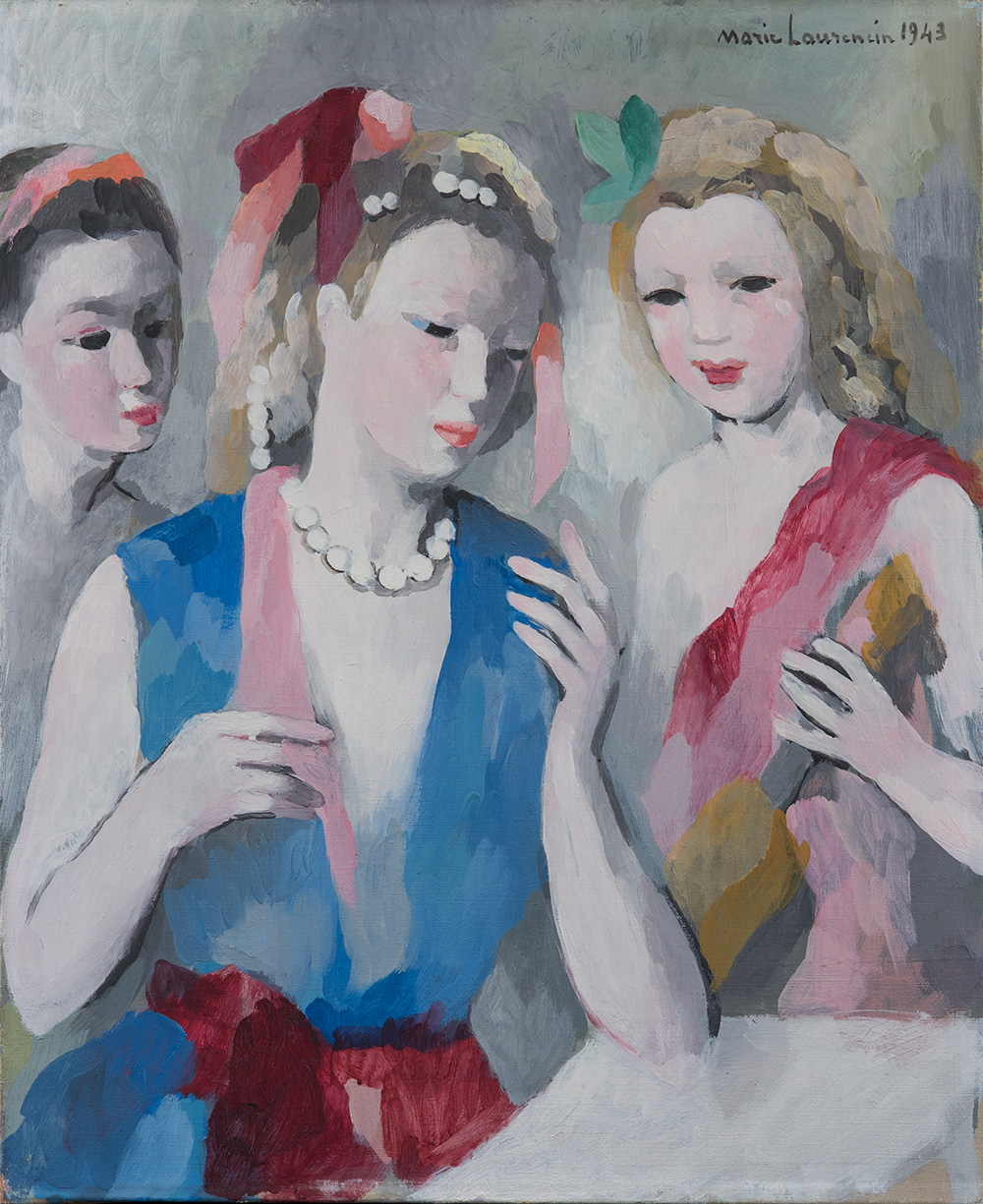 Born in Krakow, Poland, Kisling arrived in Paris in 1910. A sociable person who fraternized with many members of the city's literary and artistic milieu, he became known as the "prince of Montparnasse." He painted in a wide range of genres, including landscapes, nudes, flowers, and still lifes, producing a vast quantity of portaits in particular. Most of these were of young women, showing them from the waist up against a minimal background, as in this work. Though influenced by Cubism early on, he had moved on by the 1920s, when Dutch Girl was painted, to a classicist approach with bright colors, clearly delineated outlines, and a lustrous sheen reminiscent of porcelain or velvet.
KISLING (1891-1953)
Dutch Girl
1928, oil on canvas, 100.4 × 73.4 cm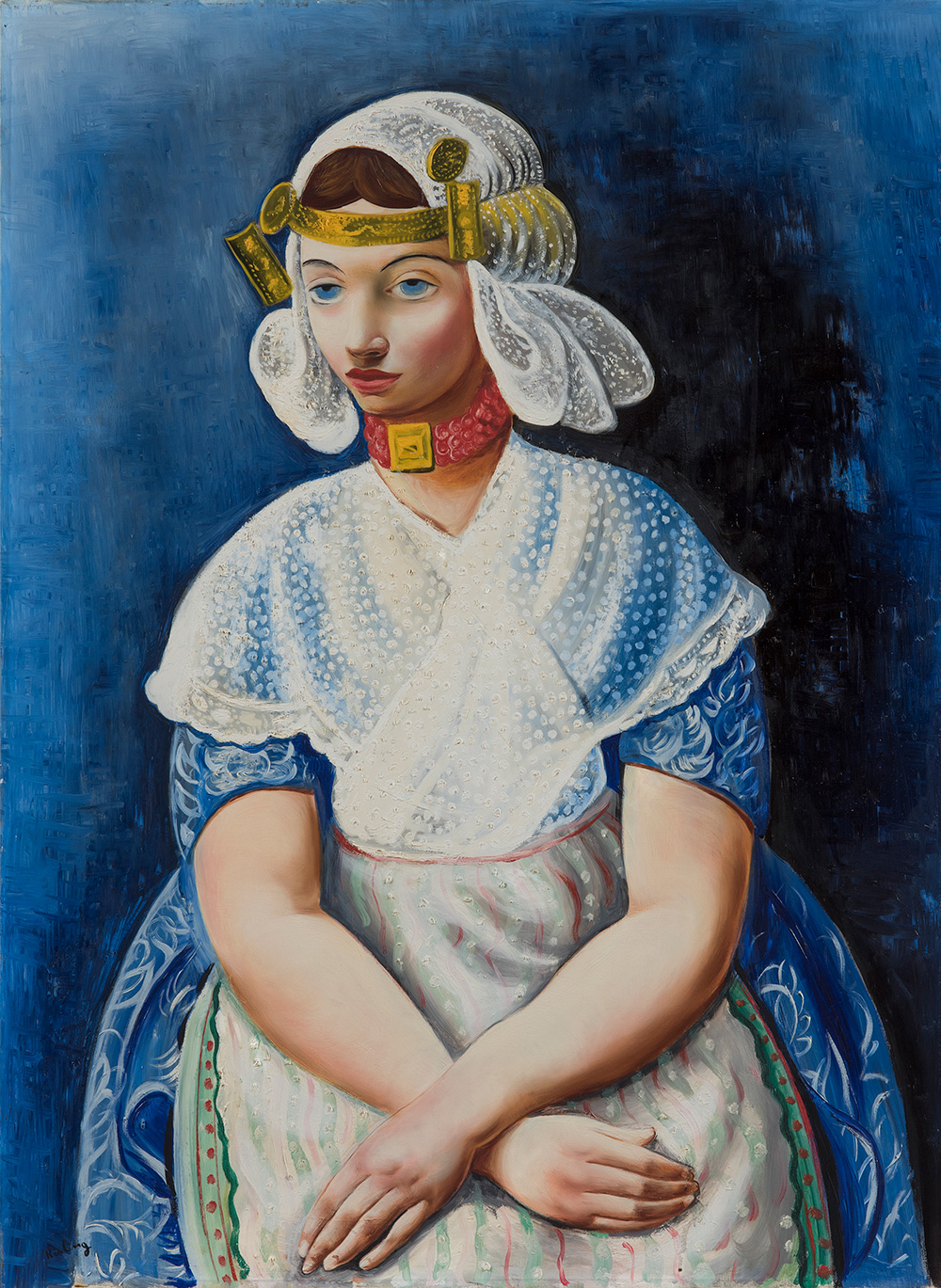 Born into a Jewish family in the impoverished village of Smilovitz (now Smilavichy) in Belarus, Soutine studied art in his homeland before emigrating to Paris in 1912. For some years he painted while continuing to endure a life of extreme poverty, but financial support from the art dealer Léopold Zborowski enabled him to stay for a time in southern France, where he perfected his distinct style. He was prolific in many genres—landscapes, still lifes, portraits—with most of his work done in an Expressionist style that revealed the vicissitudes of his inner life. In 1920 and 1921 he produced a series of paintings titled Man Praying, of which this work is one. The model is a man named Racine who lived in Céret in southern France, but the series is said to be inspired by the death of Soutine's close friend Modigliani in January 1920. The furious brushwork reverberates like an agonized cry from the artist's soul.
Chaïm SOUTINE (1893-1943)
Man Praying
c.1921, oil on canvas, 94.0 × 51.0 cm