Menu
Our purpose and mission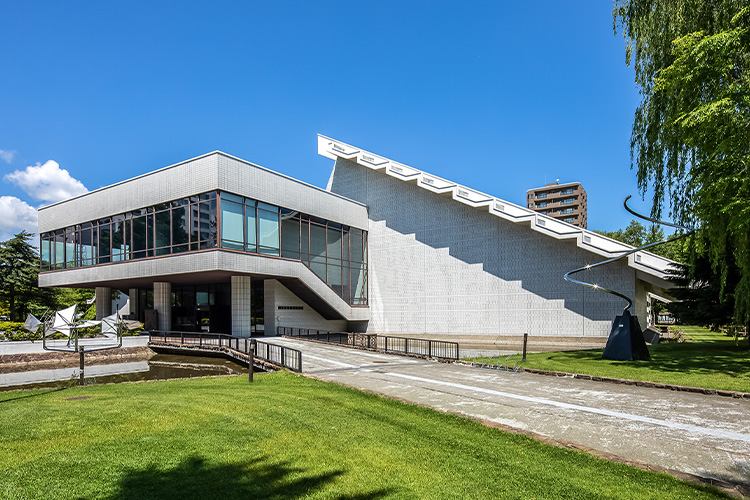 The Hokkaido Museum of Modern Art opened in July 1977 in central Sapporo with the concept of creating a general modern art museum with both regional and international dimensions. Since then, with the fundamental philosophy of being open to the community and a gateway to local art culture, we have served as a cultural center for Hokkaido through the collection, preservation, and display of artworks as well as education, research, and promotion of local culture.
The world is changing fast - both in our local communities, which are the foundation of art museums, and in the domestic and global circumstances that affect art museums. Various trends, such as the move towards more symbiotic societies and globalization, also have profound effects. Through it all, the Hokkaido Museum of Modern Art is working to keep up with these changes while remaining true to our core philosophy and valuing the accomplishments we have made, with the goal of further refining ourselves to serve as a place of relaxation and learning that brings to everyone the enriching experience of enjoying art.
June 2021
Collection and preservation: Artworks of genuine value that can be found nowhere else
Guided by our five collection policies, we have built a well-organized and unique collection with a broad perspective of the recent art scene. At the same time, we work to collect and preserve primary sources associated with our collection, as there has been an increasing drive in recent years towards archiving them and preventing their loss. We also strive to improve the museum environment to ensure that a variety of works are properly stored and preserved into the future, taking advantage of advances in Integrated Pest Management (IPM) in the field of conservation science.
Exhibition and communication: Providing encounters with diverse expressions of beauty
The exhibition of the Museum Collection, which displays the works in our collection, is a powerful testament to our uniqueness. We have created an exhibition that showcases how our collection has been enriched through our continued efforts and what we have achieved in our research. At the same time, we display works in the way that stimulates a fresh discovery of their magic. In our special exhibitions, which feature outstanding works from Japan and abroad, we cover a broad range of eras and genres—from ancient cultural assets to modern subcultures. In each exhibition, we strive to meet the diverse needs of the people of Hokkaido and provide opportunities to deepen their understanding of the diversity of human beings and cultures.
Educational programs: An open, broad, and approachable gateway to the arts
We offer educational programs that are only available at art museums and closely related to our exhibitions, collections, and research. We provide a variety of learning opportunities to all kinds of people by utilizing new tools and methods such as support tools for art appreciation education and online programs.
Research: Discovering value and sharing it with the community
We conduct research on artworks (focusing mainly on our collection), as well as museum activities. By applying what we have achieved throughout the process of researching and planning exhibitions, publications, and other museum activities, we try to discover the diverse values that art and museums can create, and share them with the local community.