Menu
Facilities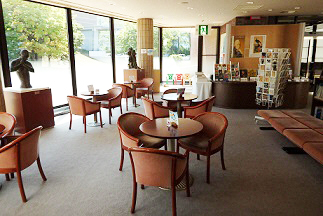 Open: 9:30 AM-4:30 PM
The café and the museum shop are operated by Ichii-no-kai, a volunteer group that supports the Hakodate Museum of Art. Come take a break after enjoying the exhibition or pick up a souvenir as a memory of your visit.
(The café is temporarily closed due to the pandemic)
Our café always tries to provide a relaxing atmosphere to allow customers to enjoy delicious coffee, tea, and other food and beverages comfortably and at a leisurely pace, allowing them to preserve the lingering excitement of seeing the collection.
It also offers its original sweets associated with special exhibitions to create a memorable experience for customers.
Menu
Original blend coffee: 280 yen
Café au lait: 300 yen
Black tea: 250 yen
Seaweed tea: 200 yen
Milk: 200 yen
100% orange juice: 200 yen
Gotoken cookies: 300 yen
Kaisei homemade cookies: 100 yen
Cookie set (Kaisei homemade cookies and coffee or tea): 350 yen
Seasonal menu
Seasonal black tea: 250 yen
Yuzu citrus tea (November through March): 200 yen
Hot chocolate (November through March): 300 yen
Our shop offers original postcards and notepads, as well as original items and catalogs for the exhibition.
Come get a souvenir of your visit.
Museum shop [Ichii-no-kai original items]
Plastic folder: 250 yen
Postcard: 80 yen
Notepad: 320 yen