Contents
Gallery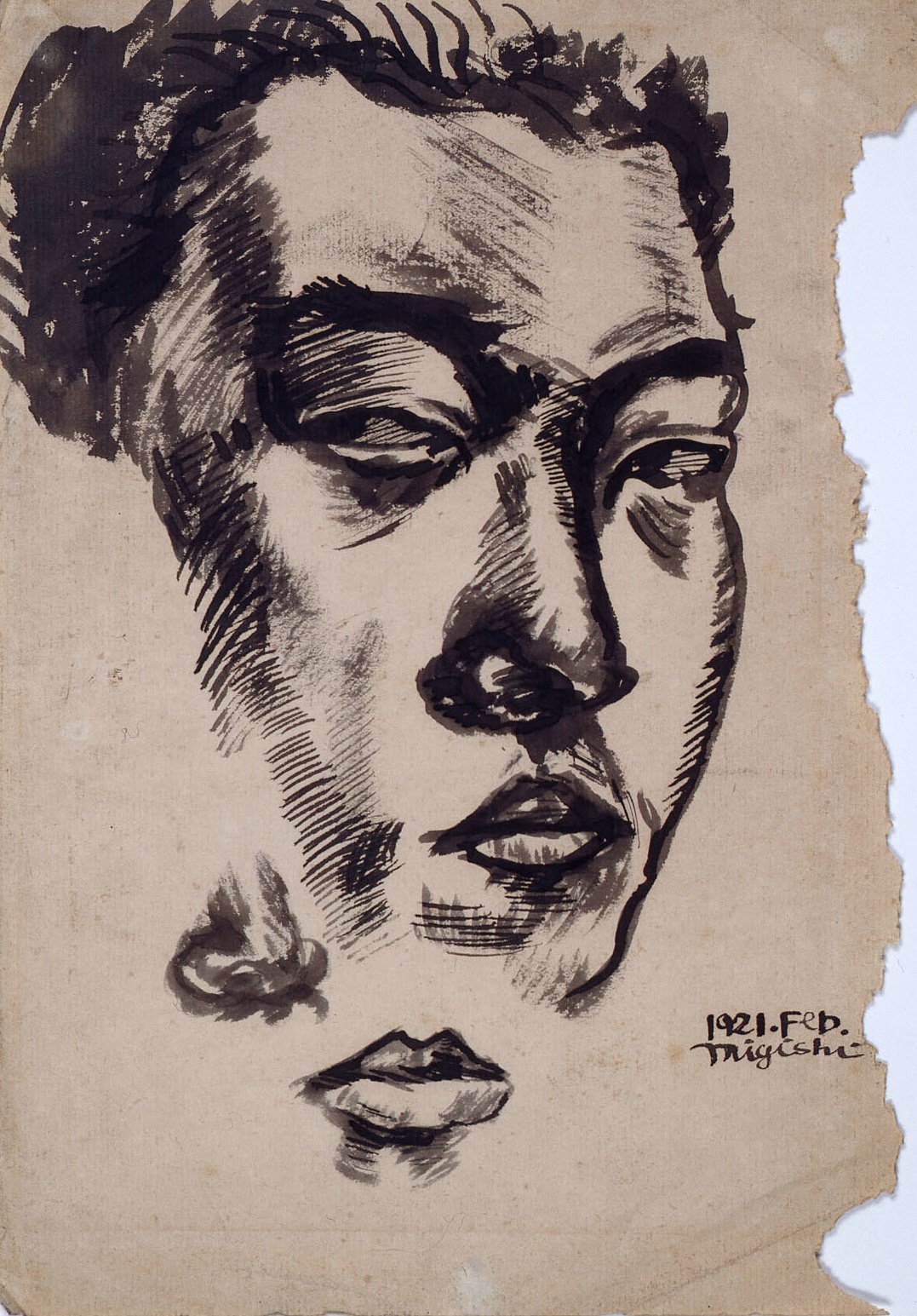 Japanese ink on paper, 1921
290×193mm
This is a self-portrait that Migishi drew when he was 17 years old, probably just before he moved from his hometown of Sapporo to Tokyo. A fearless expression with a sharp gaze is drawn in strong ink lines. The face powerfully expresses the spirit and pride of a young man trying to stand on his own as an artist.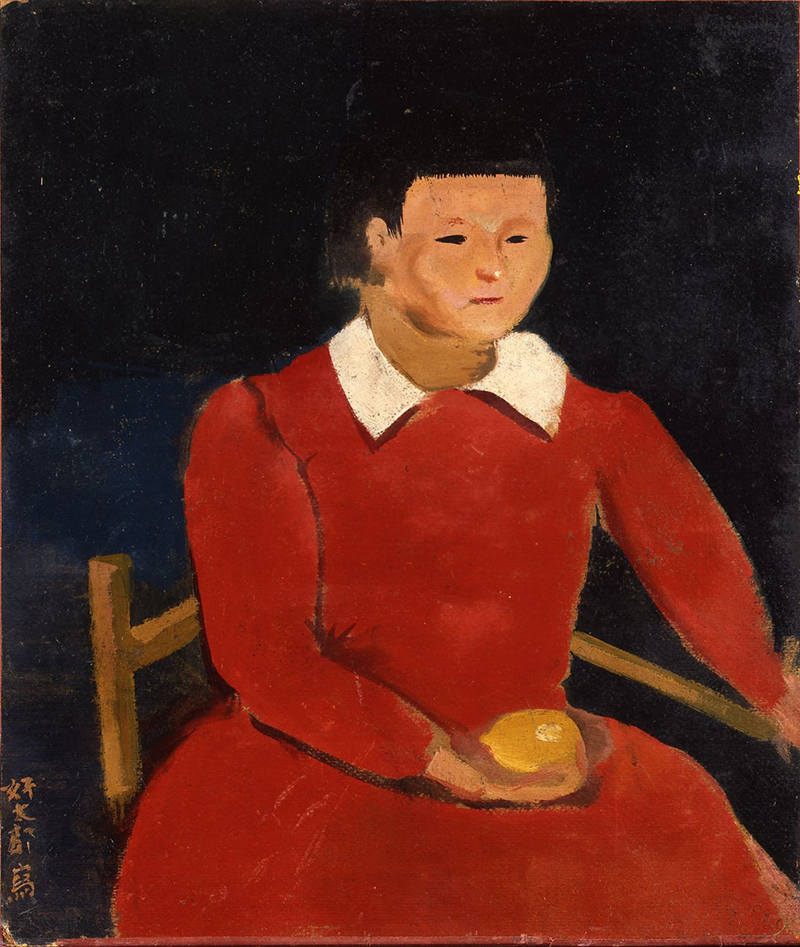 Oil on cardboard, 1923
527×453mm
The 1st Shunyo Art Exhibition
This painting is Migishi's debut work. He painted it when he was 20 years old and was trying to establish himself as a painter. He did not have the money to buy a canvas, so he painted it on cardboard. Instead of a realistic portrait, he tried to paint the girl by combining colored surfaces. The work was selected for the Shunyo-kai Exhibition organized by Shunyo-kai, an art group launched in 1923.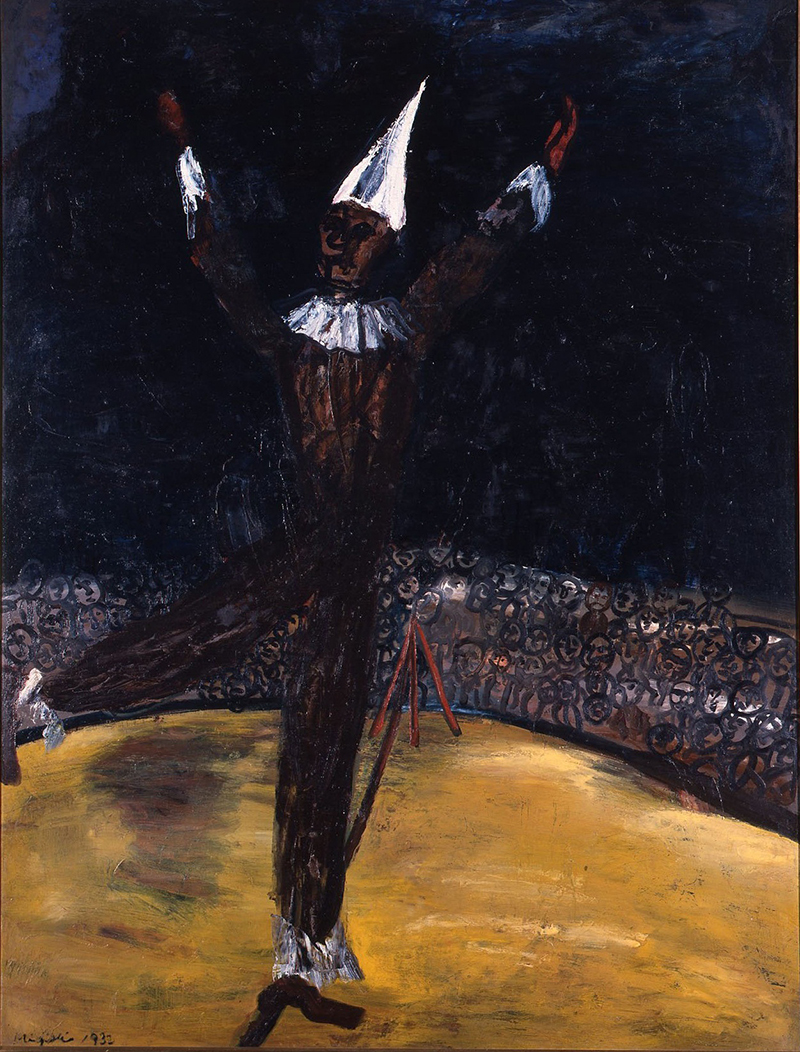 Oil on canvas, 1932
2222×1672mm
The 2nd Dokuritsu Exhibition
Migishi often portrayed clowns quietly pondering alone. It is rare to find a painting of his in which a clown is performing, but this one shows a clown balancing on a tightrope. The crowd of spectators staring at the clown is depicted in a caricatural style.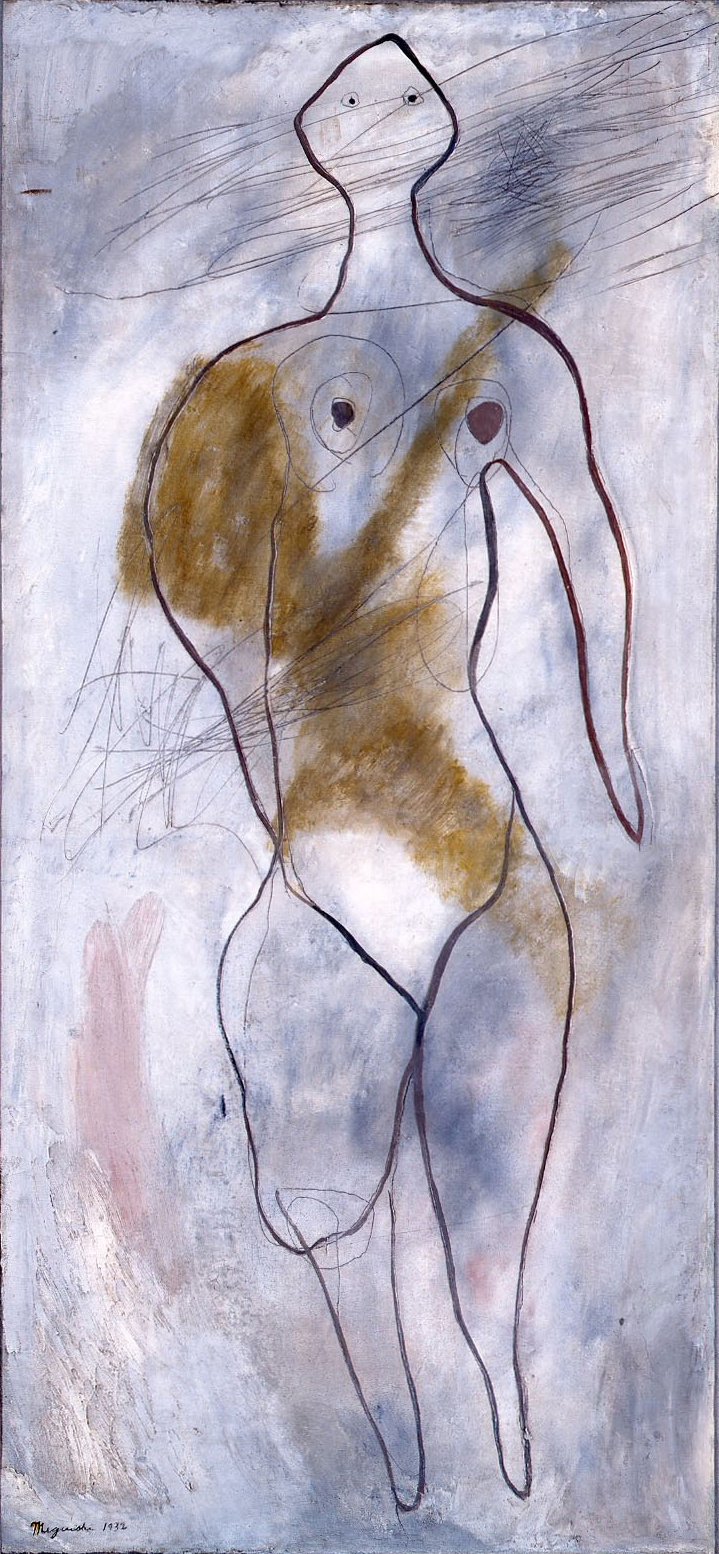 Oil on canvas, 1932
1066×497mm
The 3rd Dokuritsu Exhibition
Though the title of this painting is "Nipples," it is a far cry from typical portrayals of nude women. The figure here is grotesque and surreal, and the paint surface is covered with roughly scratched lines reminiscent of Surrealist automatism. Migishi was inspired by avant-garde European painting and became absorbed in experimental techniques.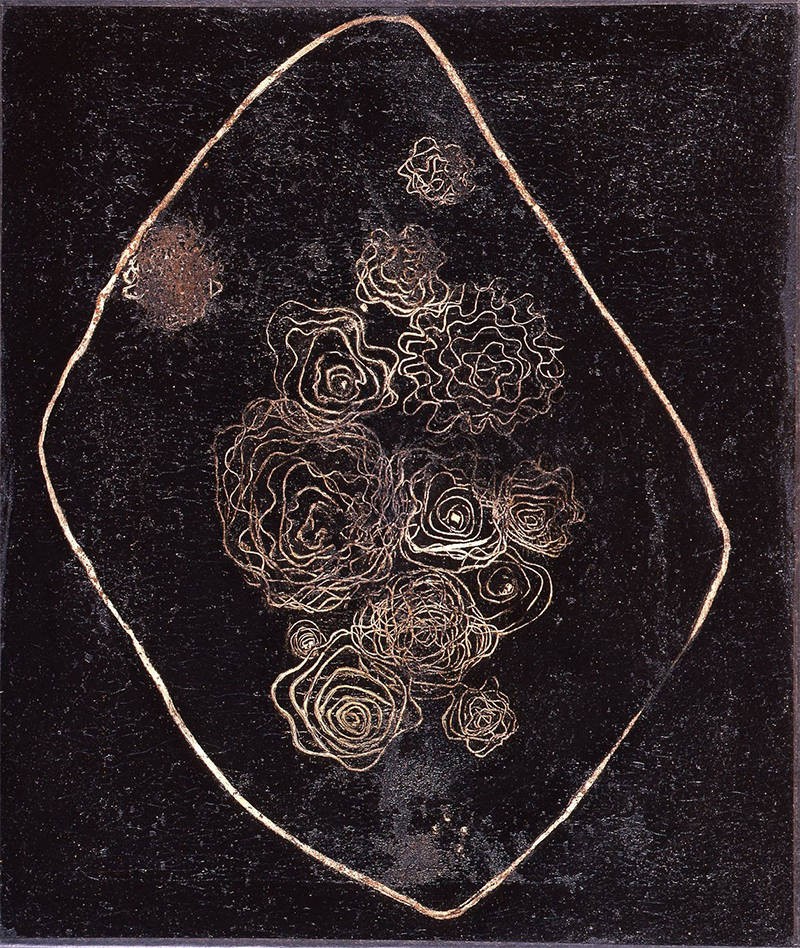 Oil on canvas, 1933
534×457mm
The 3rd Dokuritsu Exhibition
The scratched lines make white lines visible on the black background painted over white paint. It is said that he got a hint for the technique of scratched lines from child's play. The spiral lines drawn as his fancy dictated, create splendid monochrome flowers.
Brother and His Eldest Daughter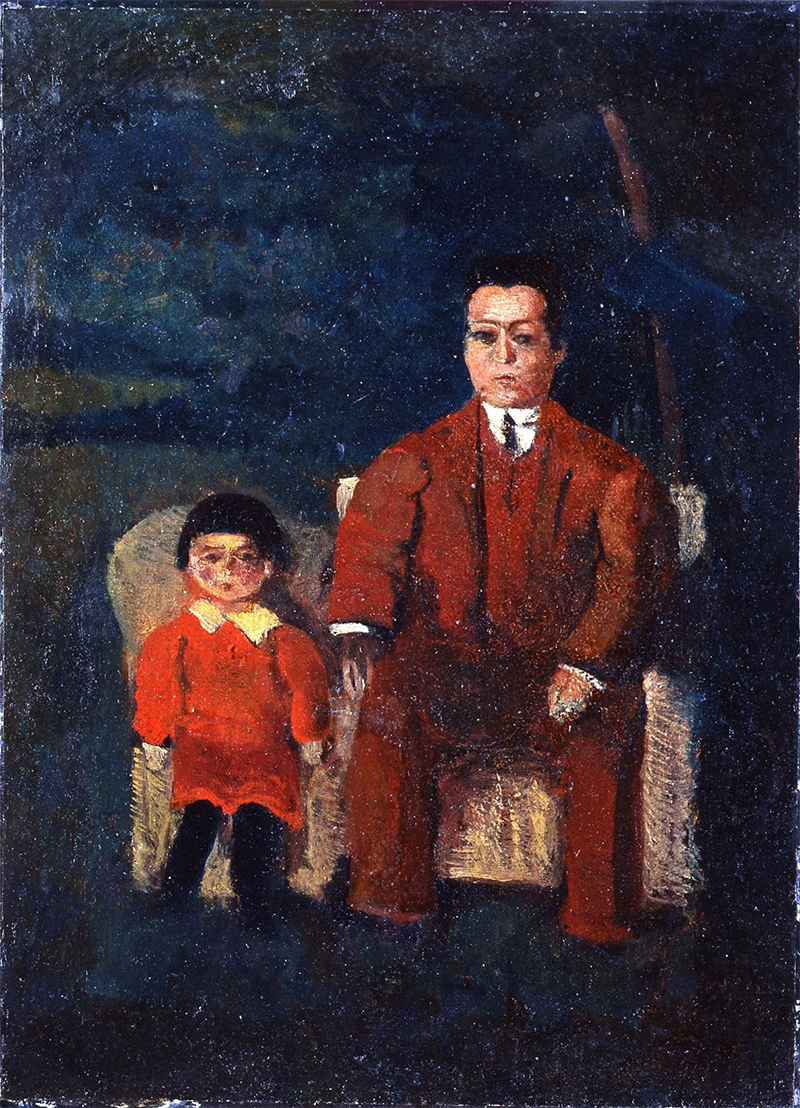 Oil on canvas, 1924
660×510mm
This work was exhibited at the Shunyo-kai Exhibition and won the highest award, the Shunyo-kai Prize. It was modeled on his brother, the novelist Shimozawa Kan, and his daughter. Newspapers at the time reported that "Migishi is a man who studies painting while working as a rice delivery man."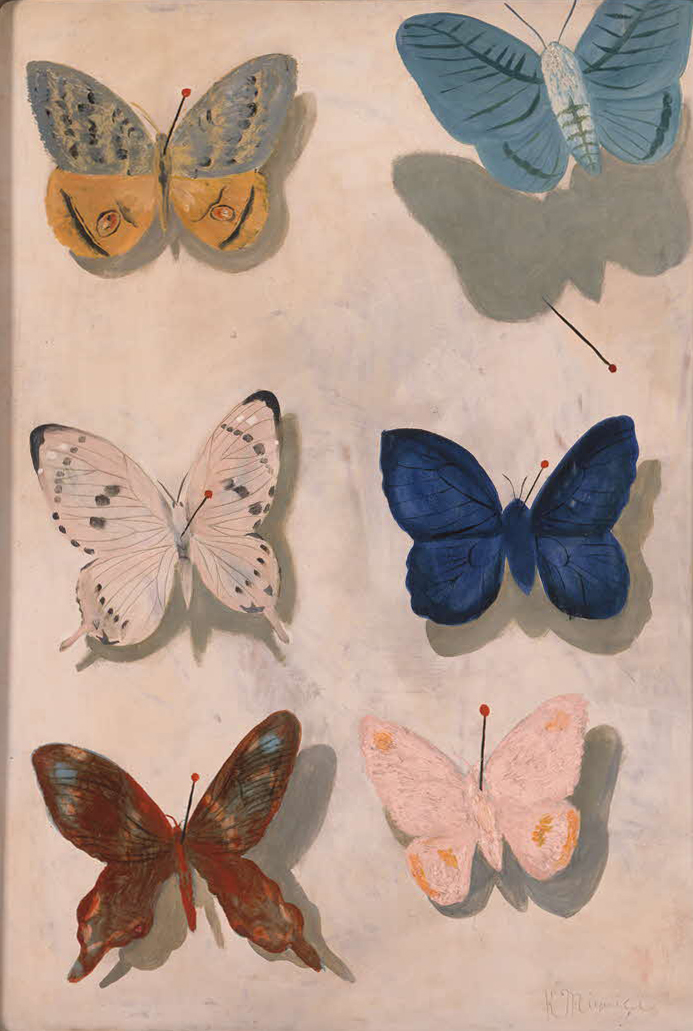 Oil on canvas, c 1932
335×249mm
The colorful butterflies are pinned down and cast clear shadows. Yet the butterfly at upper right is depicted at the moment when breaks free of the pins and soars upward. It looks like a typical specimen box, but all the butterflies are Migishi's creations and do not exist in reality. The metal pipe frame is an original design by Migishi.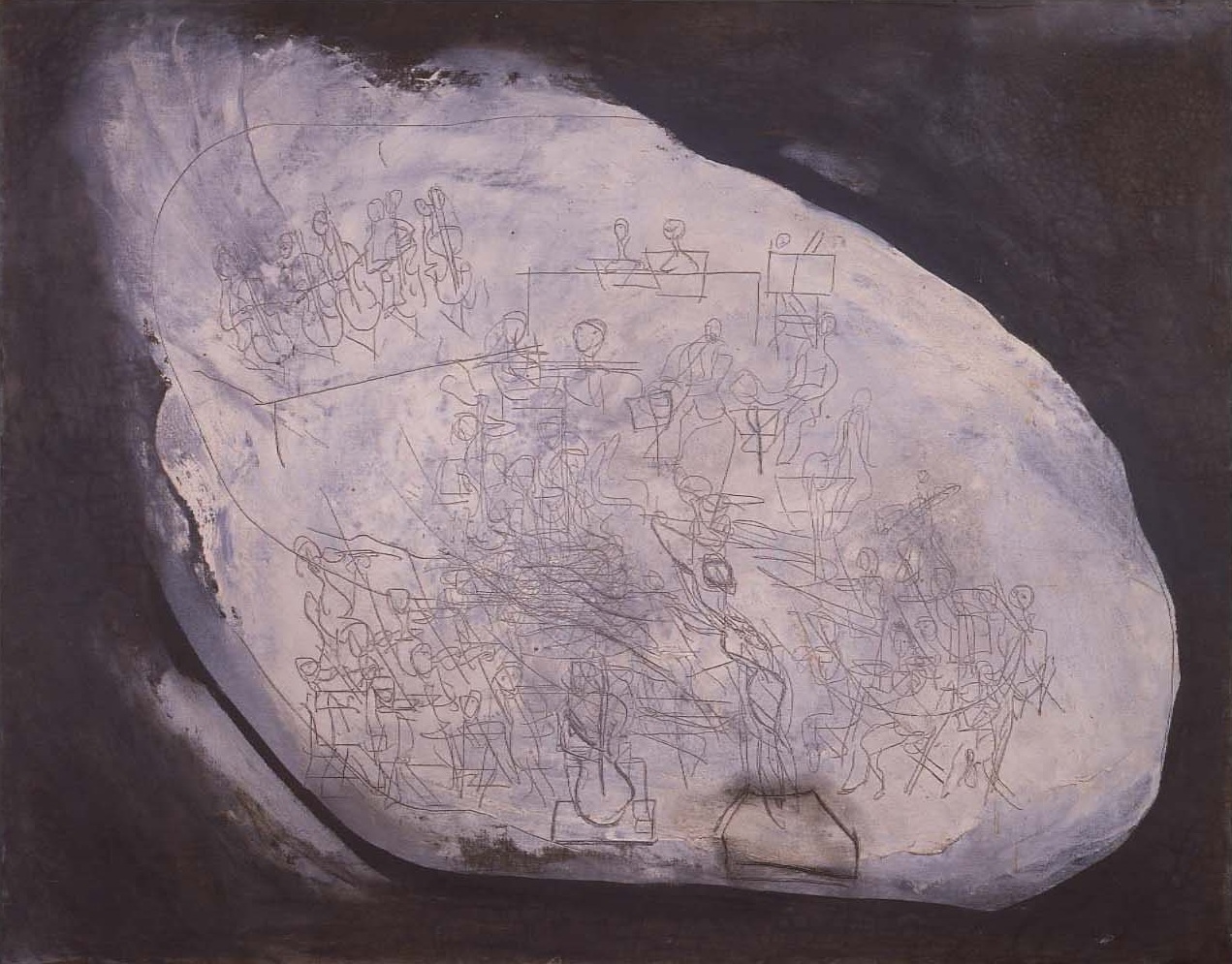 Oil on canvas, 1933
893×1146mm
The 3rd Dokuritsu Exhibition
While white paint painted over black is half-dried, a conductor swinging up his baton, a cello soloist, and various members playing their instruments, are drawn on it with sharp tools. The color of the background and lively lines combine to represent the climax of the music.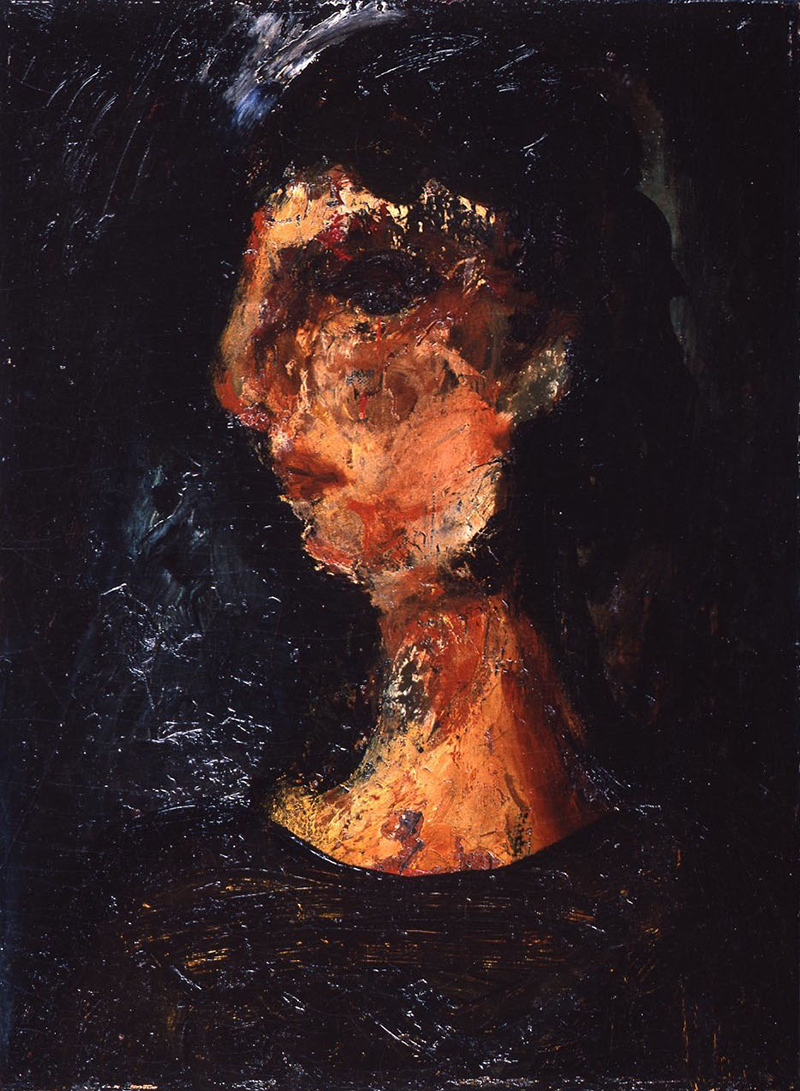 Oil on canvas, c 1932
457×338mm
The 5th Dokuritsu Exhibition
Migishi's portraits of women have a mysterious appeal. He did not necessarily paint with a model in front of him. Even when he did, Migishi did not like to have his portraits evaluated for their likeness to the model,, nor did he try to depict their appearance realistically. Instead, he strove to portray the emotions of each woman.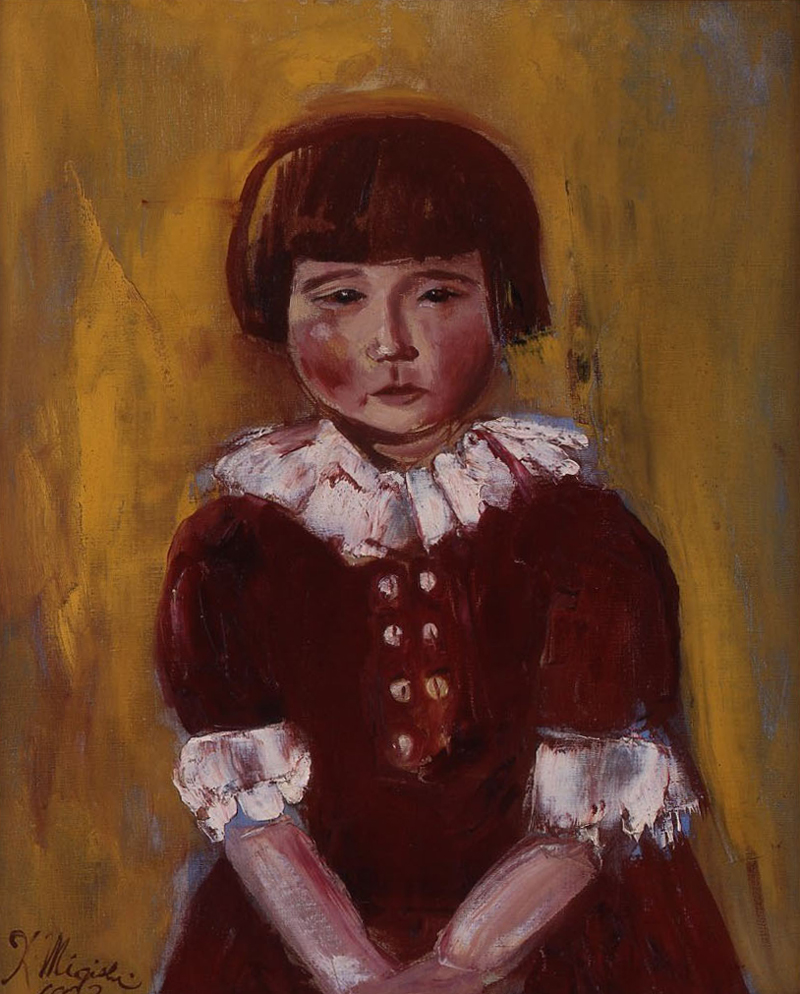 Oil on canvas, 1932
653×530mm
The model for this portrait is the daughter of a friend of Migishi. The girl has an anxious expression on her face. It is said that she did not want to be a model at first because Migishi's front teeth were broken and she thought he looked scary. In order to get the girl to model for him, Migishi had to promise to go to the dentist.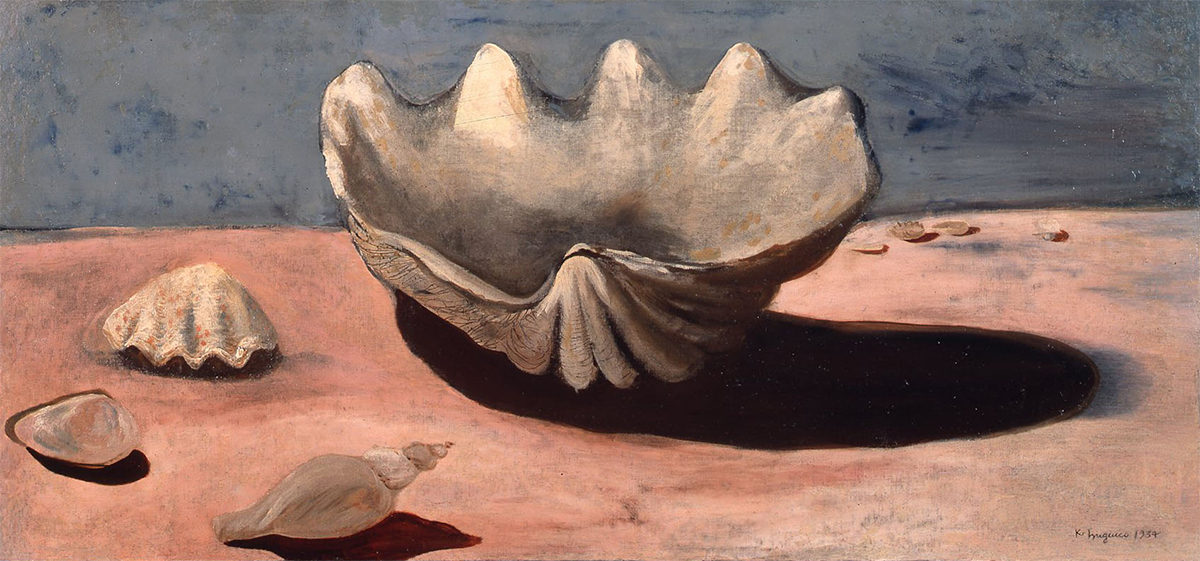 Oil on canvas, 1934
509×1074mm
The 4th Dokuritsu Exhibition
This painting depicts a large clam casting a long shadow on the sand. Time here seems to be passing slowly, and there is a sensation of emptiness. With the proceeds from the sale of this work, Migishi and his wife Setsuko went on what they called their "seashell trip" to Kyoto and Nara, the last trip of his life.