コンテンツ一覧
Portraits of Kabuki Actor's in the Edo period
Permanent Collection and Otei Memorial Room
Utagawa Kunisada (Toyokuni III) was an ukiyo-e artist who rose to great fame in the late Edo period. In this exhibition, visitors can enjoy Kunisada's masterful yakusha-e (portraits of kabuki actors) through the "Mitate Sanjurokkasen (Imaginary Thirty-Six Poets)," which combined waka poems from the Heian period with portraits of popular actors.
Date 2022.10.08 Sat. - 2022.12.04 Sun.
Single Ticket
General ¥260
High school and university students ¥150
Group Ticket – Groups of 10+(pp)
General ¥210
High school and university students ¥110
*Seniors(Age65+),Elementary and junior high school students and under: ¥0(Free of charge)
Preview some of the works that will be on display at the exhibition.
Click for details.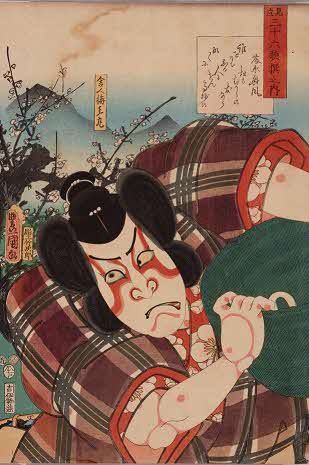 UTAGAWA Kunisada(Toyokuni Ⅲ), The Comparison of the 36 Poets: FUJIWARA-no-Okikaze[Toneri Umeomaru],1852, Hakodate Museum of Art